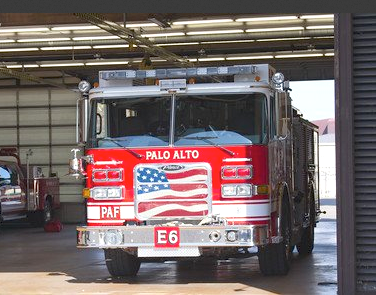 BY KYLE MARTIN AND SARA TABIN
Daily Post Staff Writer
Members of Palo Alto City Council said they want to prioritize city services such as firefighters and libraries over capital projects amid revenue shortfalls from the pandemic.
"The perception out of the community is, 'Why are we putting up big buildings? Why don't we cut back on some of our infrastructure and put more back into the services that are going back into the community.' And I think we should listen to that," Councilwoman Liz Kniss said at Monday night's council meeting. "Big infrastructure we can come back to, but I want to know: how do we save those fire positions?"
Three fire department positions might be cut because of budget shortfalls. Kniss said she wants the city to use attrition, where retiring firefighters aren't replaced, instead of letting to younger firefighters to save fire positions.
Still, the city will continue building a $106 million, 48,917-square-foot police station at 250 Sherman Ave. Most of this year's city council candidates told the Post that capital projects should be cut or delayed to free up funds for city services.
Sales tax that the city of Palo Alto received from restaurants dropped by 51% for the second quarter of this year compared to the same period in 2019, as businesses was crushed by the coronavirus lockdown, according to a report to council. Overall, the city's sales tax revenue fell from $9.3 million in the second quarter of 2019 to $6.1 million in this year's second quarter, a 34% decrease.
Chief Financial Officer Kiely Nose said no additional cuts to the budget are needed at this time. She said the city will revisit budget recommendations again before the end of the year.
"This is all pretty much assuming there isn't a second wave (of COVID)," Nose told the council Monday. Though she said there could be a second wave of COVID cases.
An uptick in cases could harm businesses which would further decrease city revenue.
Councilwoman Lydia Kou asked if there is still a hiring freeze in the city. City Manager Ed Shikada said that's mostly true, but there are a  few essential positions exempt from the freeze.
Water treatment jobs needing specialized, around-the-clock operations, as well as additional public works positions "that would be critical if left unfilled" are also exempt from the city's de facto hiring freeze at this time, according to Rumi Portillo, the city's Human Resources director.
The city has already spent $46.9 million in general funds — more than double the city's revenue intake of $26.5 million from this fiscal year.