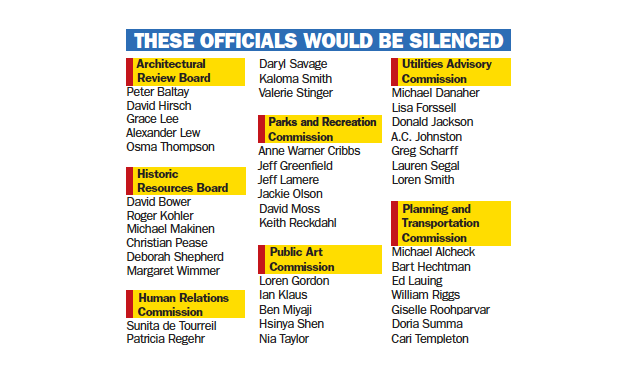 BY SARA TABIN
Daily Post Staff Writer
Palo Alto officials are considering whether to issue a new handbook to members of city boards and commissions that includes instructions telling them not to talk to the press.
The proposed handbook, which council will review Oct. 19, says statements from board and commission members might be misinterpreted as the opinion of the entire board or the city.
"Statements to the media should generally be avoided," reads the proposed handbook. "If asked, route questions through the chair in collaboration with the city's chief communications officer."
City Manager Ed Shikada released a draft of the handbook in the council packet for the Oct. 19 meeting. Councilman Tom DuBois and Councilwoman Alison Cormack helped write the handbook as part of the council's committee reviewing city boards and commissions.
DuBois and Cormack did not respond to requests for comment on the handbook.
The council is also considering other changes including reducing the Parks and Recreation Commission from seven to five members and creating a process for the council to remove members of boards and commissions.
Council has been talking about changing guidelines for commissions since December. Shikada said in December that there have been conflicts when city commissions work on issues that City Council doesn't care about, and then commissioners get upset when those issues are not put on the council's agenda.
The council members decided that their committee that deals with board and commissions, DuBois and Cormack, should come up with rules and possible changes for the city's commissions.