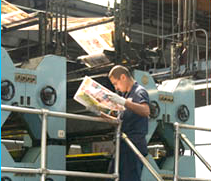 By the Daily Post staff
When the lockdown began in March, local business activity came to a screeching halt. Many businesses closed while others laid off their employees as a three-week lockdown became what is now 29 weeks.
The crumbling economy reduced local advertising, and that forced the Post to temporarily suspended its Tuesday and Wednesday editions.
Beginning today, the Post's Wednesday edition is back.
Now the Post will print five days a week: Monday, Wednesday, Thursday, Friday and Saturday.
The Post is optimistic that conditions will improve in the next few months so that we can resume publishing on Tuesdays as well.