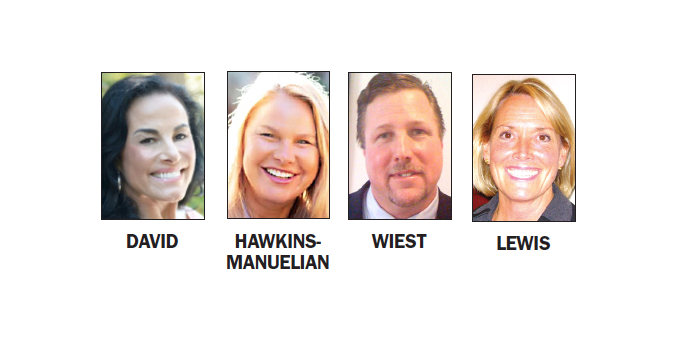 BY EMILY MIBACH
Daily Post Staff Writer
Incumbents Cary Wiest and Elizabeth Lewis are defending their spots on the Atherton City Council against a former parks committee member and a current environmental commissioner.
Challenger Christine David, 57, has been living in Atherton for 21 years, and for the past eight years has been involved in town politics, from working on campaigns for some of the current council members, advocating on behalf of residents to committees and the council, raising money to rebuild the town center, serving on various committees, including the Parks and Recreation Committee, until she resigned in 2019.
David and another then-member of the commission resigned in December after the council decided to remove an off-leash dog park from the town's master plan, despite it being in the plan for five or so years before its removal.
"I have found it difficult to establish real change without being a member of our town council. By serving as a town councilwoman, I will be more effective," David said, calling the current commission and council set up a "monarchy," pointing out that while the town's various commissions and committees that are appointed by the council have term limits, the council does not have term limits.
David is against the town leaving the Menlo Park Fire Protection District, saying the two entities need a close working relationship.
David has endorsements from former state treasurer candidate Greg Conlon, resident Howard Crittenden and former parks and recreation member John Davey.
Diana Hawkins-Manuelian, 61, has been on the town's environmental committee for the past year. She said that through her time on the committee she's found that there is more the town can do address current environmental issues, including changing the town's building codes to limit or ban the use of natural gas in new buildings.
Hawkins-Manuelian vehemently disagrees with any exploration of leaving the Menlo Park Fire Protection District, which also serves Menlo Park, East Palo Alto, North Fair Oaks and west Menlo Park.
Instead of separating from the district, Hawkins-Manuelian calls for working more collaboratively with the district to plan for fires and expanding the city's disaster preparedness volunteer group, ADAPT.
"Smoke and fire do not recognize city borders!" Hawkins-Manuelian said. "Because of the number of trees, Atherton is at higher risk for canopy fires. I would prioritize planning with the fire district and the state to create a timely response to this increased risk."
Hawkins-Manuelian has endorsements from Congresswoman Anna Eshoo, D-Palo Alto, state Senate candidate Josh Becker, Mayor Rick DeGolia, San Mateo County Supervisor Don Horsley and Menlo Park Fire Board members Rob Silano and Jim McLaughlin. She was also endorsed by the county's Democratic Party.
Wiest, 56, has been on the town council for eight years and is seeking another four. He says the next four years are crucial for the town as it works its way through COVID and major town projects, such as the potential permanent closure of the town's Caltrain station, switching to a new garbage service and the town's new Civic Center.
Among his accomplishments, Wiest says he worked with residents and the construction industry to set up guidelines for how construction could restart after the initial COVID shutdown, was on the committee that worked to recruit a new police chief a few years ago, resulting in the hiring of Chief Steve McCulley, and worked with residents and the Federal Railroad Administration to implement the town's train quiet zone.
If re-elected, Wiest says some of his priorities include making sure residents' voices continue to be heard and respected, maintaining Holbrook Palmer Park, addressing traffic problems and finalize the town's new garbage pick-up contract.
Wiest says he is against leaving the Menlo Park Fire Protection District but is for enhancing the services the town gets from the fire district.
Wiest boasts endorsements from state Sen. Jerry Hill, D-San Mateo, councilmen Bill Widmer and Mike Lempres, Sheriff Carlos Bolanos and former mayors Malcolm Dudley, Jerry Carlson, Jim Janz, John Fisher and Didi Fisher.
Lewis, 70, has been on the council for 12 years. She is seeking another term because she loves Atherton, saying that being on council is both a "privilege and passion."
During her time on council, Lewis says some of her highlights include serving on the San Francisco Airport Community Noise Abatement Roundtable, working to work on new flight paths that don't go above Atherton. She also points to the groundbreaking of the new Civic Center as a highlight, having served leadership positions in the planning process for the new center.
If re-elected, Lewis says her priorities will include looking at fixes for unsafe intersections, create bike and pedestrian lanes on El Camino in partnership with Menlo Park officials, not leaving the Menlo Park fire district and reducing greenhouse gas emissions in town.
Lewis says she has some reservations about the council's recent decision to go forward with leaving the coalition of San Mateo County cities that get garbage picked up by Recology, and switching to Green Waste, which picks up Palo Alto, Woodside and Portola Valley's garbage. Although she ended up voting to leave Recology, she has reservations about spending $1.8 million to leave the coalition and that the town will only save about $2 million over 15 years by switching to Green Waste. However, she does think that Green Waste is a better fit for the town because it has no heavy industry or high-density housing.
Lewis has endorsements from Congresswoman Anna Eshoo, D-Palo Alto, county supervisors Don Horsley, Warren Slocum and Dave Pine, Mayor Rick DeGolia, former mayors Malcolm Dudley and Jim Janz.