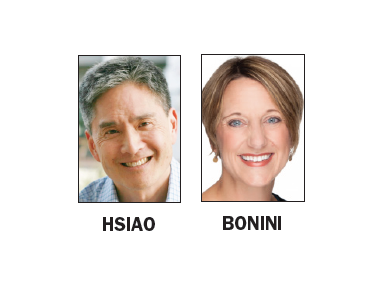 BY EMILY MIBACH
Daily Post Staff Writer
Two candidates are facing off in a rare contested election for the San Mateo County Board of Education.
Incumbent Rod Hsiao is running against former San Mateo-Foster City school board member Chelsea Bonini. The two are vying to represent Foster City and San Mateo, roughly the same borders as the San Mateo-Foster City School District.
Incumbent's accomplishments
Hsiao, 56, is the CEO of InPlay, which works as a Yelp for after-school activities for children. Hsiao, who has been on the board for 14 years, says he has taken a "deep dive" into the board's finances and which programs are effective. He also initiated a deal to sell a swath of land the county owned in Loma Mar for $3.9 million to the Peninsula Open Space Trust to fund the county's outdoor education program with the YMCA.
If re-elected, Hsiao says he will focus on helping families in underserved communities get help they need for distance learning and examine what programs are helpful and try to expand them.
Special needs advocate
Bonini, 48, is a founder of a nonprofit that advocates for children and adults with disabilities and practices law part time at Kiski Law in Belmont.
She serves on the county's disability commission and the county Board of Education's personnel committee. She was on the San Mateo-Foster City School Board from 2013 to 2017.
Bonini says she is running because there should be more of a focus on special needs. She also wants to look at getting teacher housing built in the county as a way to retain teachers. Another priority of hers is to explore getting a funding source for the board to hand out to districts, specifically underfunded districts. Bonini said she is not sure what the funding source would look like at this point.