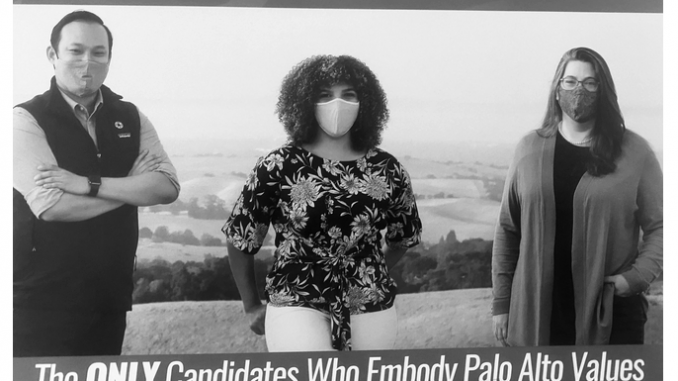 BY SARA TABIN
Daily Post Staff Writer
Palo Alto Councilman and Vice Mayor Tom DuBois has published a blog post denouncing five pro-growth city council candidates.
The candidates say his blog is riddled with inaccuracies and residents have complained that he blocked comments he disagreed with on social media.
The blog opens with a complaint about a mailer from Cari Templeton, Steven Lee and Raven Malone touting their endorsement from the Santa Clara County Democratic Party. The mailer says those three are "the only candidates who embody Palo Alto values."
DuBois said the mailer is an offensive "hit-piece." He said it is ironic for "these people" to run a piece that proclaims their "own enlightenment and leadership."
He then went on to attack the character of the three candidates.
"One has made leaders of local nonprofits actually cry when they appeared before him seeking their annual funding," he said. "One is new to town but doesn't like what she sees. One was a member of the Democratic Socialists of America who's positions include eliminating capitalism and 50% police defunding."
Speaking to the Post, Templeton said she doesn't fit any of the three descriptions because she has lived in Palo Alto for years, hasn't made nonprofit leaders cry at meetings and is not a member of the Democratic Socialists of America.
"(The blog post) shows tremendously poor judgment on the part of our vice mayor," she said.
Malone, who moved to town in March, said voters are fed up with negative political discourse and want leaders they can trust.
Lee took a positive approach, saying that if elected, he will work with DuBois on behalf of the entire community. DuBois has two years left on council.
None of the council candidates have included eliminating capitalism in their platforms.
DuBois then goes on to criticize Councilman Greg Tanaka and candidate Rebecca Eisenberg in his blog.
Templeton said she wonders how DuBois picked those five candidates who she pointed out are all women or minorities.
DuBois told the Post he thinks the five candidates have equated residential single-family zoning with exclusionary zoning. He doesn't believe the two concepts are the same, and he wants to keep single-family zoning.
Some political leaders in the Bay Area have said that single-family zoning should be eliminated so that homes can be replaced with multi-family duplexes, triplexes or quadplexes in order to squeeze more people on to the land.
DuBois criticized Eisenberg for calling Palo Alto police officers racist and said Tanaka is "disingenuous" because he falsely claimed to be endorsed by the League of Conservation Voters.
Speaking with the Post, Tanaka pointed out that his name is listed under the endorsements on the website of the SCC League of Conservation Voters.
"Why does he have to lie like that?" Tanaka asked. "It's a little bit like Trump actually, it's such an outright lie."
DuBois told the Post that he was wrong about that endorsement. He updated his blog post to instead say Tanaka falsely claimed that he was endorsed by the South Bay Labor Council and SEIU Local 521. The labor council also lists Tanaka as an endorsement on its website.
Blocked comments on Facebook, Twitter
Resident Xander Koo complained to the Post that DuBois was blocking comments he didn't like after he posted the blog on Facebook and Twitter.
"I think it's disgraceful of Mr. DuBois to release such a hateful article, and moreover it is ominously telling of his ideological tendencies that his immediate response to criticism is censorship of his constituents," said Koo.
DuBois said he blocked the comments because he didn't agree with them.