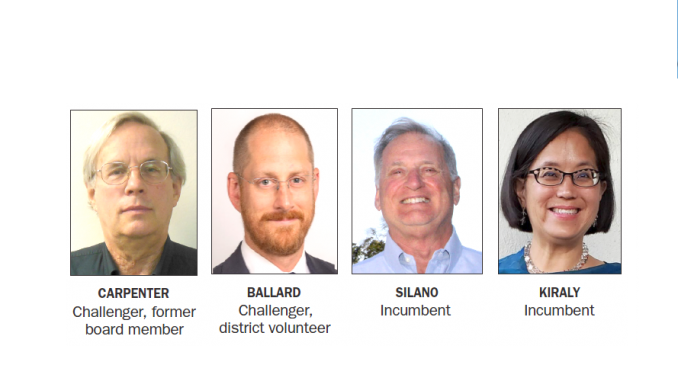 BY EMILY MIBACH
Daily Post Staff Writer
Menlo Park Fire Protection Distrtict Board members Virginia Chang Kiraly and Rob Silano are fighting to keep their seats against two challengers who are familiar with the district, and say that the board is on the wrong path.
Menlo Park residents Peter Carpenter, 80, and Sean Ballard, 43, are running against Silano, 68, and Kiraly, 56, for the two seats up for grabs in November. The board oversees the fire district which serves East Palo Alto, Menlo Park, Atherton, west Menlo Park and North Fair Oaks.
Carpenter and Ballard are running as a slate against the two incumbents on a platform saying that the board is currently "struggling to function," as Ballard put it.
Carpenter said that the board is currently childishly micromanaging Fire Chief Harold Schapelhouman, and prolonging decisions from being made. He said that because of the micromanagement, it will be hard for the board to recruit a new fire chief when Schapelhouman retires.
But incumbent Silano disagreed that the board was micromanaging the chief.
"Asking for specifics and facts should not be interpreted as micromanagement, but as effective oversight by the board," Silano wrote to the Post.
But for her part, Kiraly agrees that her fellow board members have been micromanaging Schapelhouman.
She said that micromanaging of the chief resulted in a house owned by the fire district on Chilco Street in Menlo Park near Fire Station 77 remaining unpainted and a blight in the neighborhood. Schapelhouman wanted to use discretionary money from his budget to repair and paint the house, but board members objected and wanted the project to be a board decision.
The candidates
Carpenter has been on and off the board since 2001, serving a total of for 15 years before leaving the board two years ago. At that point, said he would not seek another four years on the board.
Carpenter said he was trying to get a slate of two people to run against Kiraly and Silano. However, one of the candidates decided not to run the day before the deadline to run, so Carpenter decided to run with Ballard.
Carpenter was once a smoke jumper for the U.S. Forest Service, held top-level corporate positions at Alza and Stanford Hospital and served on the boards of numerous nonprofit and local governments.
Ballard, 43, of Menlo Park, is involved with the district's Community Emergency Response Team, or CERT and sits on the district's finance committee. He previously ran for a seat on the board in 2018. He is a managing partner at investment firm Eigenvector Capital. He grew up in Menlo Park and moved back to town in 2014.
Silano, 68, has been on the board since 2011. In June, he retired from the Northern California Regional Intelligence Center in San Francisco, where he worked as an intelligence officer. That's the agency that collects, analyzes and stores automated license plate reader information collected by police agencies.
Prior to being on the board he was on Menlo Park's parks and recreation board.
Kiraly, 56, has also been on the board since 2011. She lives in west Menlo Park, which is part of unincorporated San Mateo County. Since 2016 she has also served on the San Mateo County Harbor Board.
Both Kiraly and Silano have been endorsed by the San Mateo County Labor Council.
Picking the next chief
Despite candidates disagreeing on whether the district and Chief Schapelhouman is being micromanaged, all agree that his retirement will be a loss for the district and that the board will have to step up to choose the best replacement for him.
Kiraly said that she wants to see a chief who has worked his or her way up the rank-and-file, is a team player, community-oriented and has creative thinking befitting of leading a fire agency in Silicon Valley.
Silano said he wants to see the board involve local businesses and entities in the process and use them as a resource for the selection of the new chief.
Carpenter said he wants to see a new chief who has a distinguished career of fire service and leadership.
Ballard said that the current board will struggle to attract a quality fire chief to apply, due to the different squabbles the board has had.