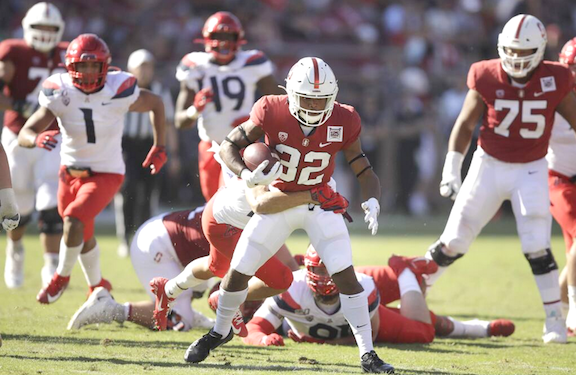 Stanford and Cal will play football this fall after the Pac-12 decided to reverse its decision about canceling the season due to the coronavirus.
However, the games will be played without fans in the stands.
All seven games will be against conference opponents and the season will start Nov. 6. The Pac-12 Championship Game is scheduled for Friday, Dec. 18.
The Pac-12 reached an agreement earlier this month with a diagnostic testing company, Quidel, to conduct daily COVID-19 tests on athletes participating in close-contact sports.
After the Pac-12 canceled the season in August, the Big Ten has changed course, approving a season that starts Oct. 24. That was followed by the Pac-12's decision yesterday.
"From the beginning of this crisis, our focus has been on following the science, data and counsel of our public health and infectious disease experts," Pac-12 Commissioner Larry Scott said in a statement. "Our agreement with Quidel to provide daily rapid-results testing has been a game-changer in enabling us to move forward with confidence that we can create a safe environment for our student-athletes while giving them the opportunity to pursue their dreams."
The Pac-12's men's and women's basketball seasons can start Nov. 25.
The decision to hold the championship game on Dec. 18 put the conference in play for College Football Playoff and New Year's Six Bowl selection — and the multimillion dollar payouts that come with them.
A major college football season that six weeks ago seemed to be in peril, slowly crumbling away, is reforming and has a chance to be almost whole by November. The Big Ten reversed course last week, with kickoff scheduled for the weekend of Oct. 24.
Leagues begin to reopen
The Mountain West presidents were meeting last night to discuss a possible late October start to the football season. The Mid-American Conference, the first FBS league to postpone, also is reconsidering playing in the fall.
The Southeastern Conference begins play this weekend, joining the Big 12, Atlantic Coast Conference and three others that have been up and running since Labor Day weekend.
The season is ongoing but it has been anything but normal.
There have been 21 games postponed or canceled since Aug. 26 because of teams battling various levels of COVID-19-related issues.
This week, four games scheduled to be played Saturday have been called off, including Notre Dame at Wake Forest because of a virus outbreak among Fighting Irish players.
The loss of ticket revenue and decreased number of games will cost Pac-12 schools tens of millions of dollars, but it could have been even worse with no football at all.
"This has nothing to do with money," Schill said. "It was never once mentioned as a consideration. The losses that are schools are encountering, in particular our athletic departments, are huge. The amount of money that will be saved as a result of going back to play is tiny in comparison with the losses." — From staff and wire reports