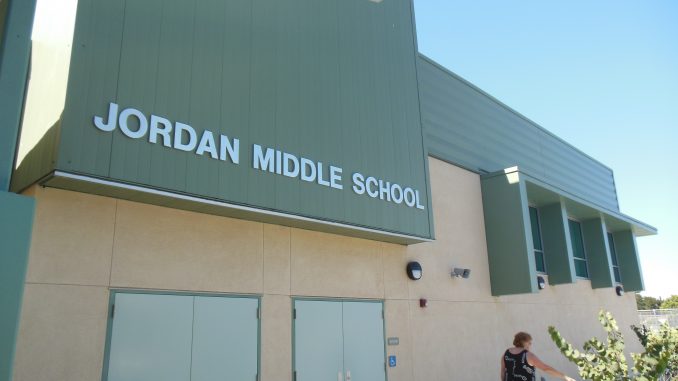 8:02 p.m. Tuesday — This story has been updated with the settlement amounts approved by the school board.
4:40 p.m. Tuesday — This story has been updated with a comment from the family of the boy who was bullied.
By the Daily Post staff
The Palo Alto school board tonight (Sept. 22) voted to settle two lawsuits — one alleging that a lack of supervision led to the bullying of a middle school student and the other concerned injuries an elementary student suffered on the playground.
The board settled the bullying suit with a $50,000 payment while the playground injury was settled with a $200,000 check.
In the playground suit, a boy who attended Ohlone Elementary School on April 24, 2018, was injured when he fell face first onto a concrete curb near a sandbox while playing with a funnel ball catcher.
A funnel ball catcher is a 5-foot diameter plastic or fiberglass cup that's placed atop a pole. Players throw balls into the cup and the balls roll out of holes on the sides of the cup.
The lawyer for the boy's family argued that the placement of the catcher near the sandbox led to the elementary student's injuries. Court records show the boy's medical bills totaled $13,450, which were covered by insurance.
Of the $200,000 settlement, $65,956 will go to the family's attorney.
In the other case settled by the school board tonight, the family of a former middle school student alleged that a lack of supervision by district employees led to the boy being bullied and threatened with a knife by other students.
The lawsuit claims that starting in January 2016, the boy was harassed, bullied and physically assaulted by other kids at what was then known as Jordan Middle School, which has since been renamed Greene Middle School.
The alleged abuse included cyber-bullying, having his money stolen and having his pants pulled down in public, humiliating him.
The boy transferred to another middle school in the district.
"We filed suit to hold PAUSD accountable for the ongoing bullying my client endured by students and a teacher's aide," said the family's attorney, Seth Rosenberg, in an email to the Post today. "Through the litigation process, we conclusively proved that PAUSD failed in its responsibilities to protect its students at every level — in educating its students regarding bullying prevention, in investigating and remedying bullying once it occurs, and in working to prevent bullying from occurring again. For these errors PAUSD fairly compensated my client."
"We hope PAUSD learns from this experience and works harder to protect its students going forward," Rosenberg said. "I couldn't be prouder of my client and his family for sticking up for their rights. I have been honored to represent them."
The boy's parents claim that five other students had discriminated against, harassed, intimidated and bullied him based on his ethnicity, disability and age.
According to a letter from then-Associate Superintendent of Educational Services Markus Autrey, three other students who saw a boy brandish a knife at the plaintiff pulled him away to protect him. The plaintiff and the three witnesses reported the incident to then-Assistant Principal Jim Cox and then-Assistant Principal James Lubbe.
At one point, a student pulled the boy's pants down in public, humiliating him. According to Autrey, the student responsible was disciplined and apologized to the boy.
Autrey's position was eliminated at the end of December 2016.
In that letter from Autrey, he concluded that the district had found that the five named students had acted in a bullying and intimidating manner, but that they had not acted in a discriminatory manner based on ethnicity or disability.
In the course of the investigation, Autrey notes, "it was clear that certain processes and protocols regarding student discipline and investigations need to be reviewed and clarified."
The boy's parents also filed a complaint about Jane Miller, the boy's student attendant, alleging that she had discriminated against the boy on the basis of race. The boy has a Hispanic last name.
"Although I did not find that Ms. Miller's actions toward (the boy) rose to the level of racial discrimination, I did find that many of Ms. Miller's interactions with students in general were unacceptable and unprofessional," then-Assistant Superintendent for Human Resources Scott Bowers wrote in a letter to the boy's parents on Aug. 2, 2016. "I found that Ms. Miller's approach in dealing with a variety of student situations were sometimes harsh and not supportive and understanding of the students. I also found that Ms. Miller would, at times, physically contact the students to redirect their efforts, which is unacceptable."
Bowers wrote that he had met with Miller and told her to "deal with all students in a more respectful manner and to address those students who may be off-task or in need of redirecting in a more supportive and friendly manner and without any physical contact."
Bowers wrote that he had also told administrators at Jordan Middle School, as well as the teachers in the classes where Miller supported students, to monitor her interactions with students to make sure that his directives to her were being followed.
The lawsuit alleges that Miller was not adequately trained, monitored or supervised prior to the bullying, leading to severe emotional distress for the boy.