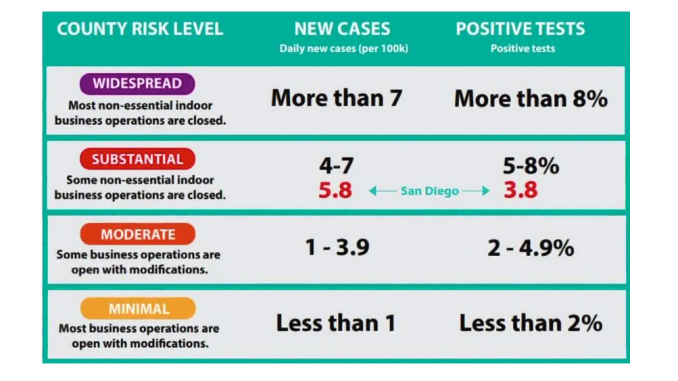 Indoor restaurant dining rooms, gyms and indoor malls can resume business in San Mateo County after the state announced today that the county's coronavirus cases have fallen enough to warrant an easing of restrictions.
On Gov. Gavin Newsom's color chart for reopenings, San Mateo County moved from the purple to red zone.
Santa Clara County moved from the purple to red tier on Sept. 8.
More than a half-dozen counties changed tiers today, the most since the state changed to the color-coded tier system at the end of August.
In addition to San Mateo County, Alameda, Solano, Riverside and San Luis Obispo counties also moved out of the purple zone while El Dorado, Lassen, Nevada and Mariposa counties each moved to one of the two least restrictive tiers.
To move out of the purple zone, a county must for two consecutive weeks have fewer than seven new cases per day per 100,000 residents and a test positivity rate below 8%.
"We want to be slow and stringent," state Health and Human Services Secretary Dr. Mark Ghaly said. "So, as we move forward, we can be best prepared in case we see some increase in transmission, that it doesn't cause us to take one giant step backwards."
The five counties moving to the red zone will be allowed to resume indoor operations at retail stores, indoor malls, personal care services like skin care and nail services, museums, churches, movie theaters, gyms and restaurants with modified capacities.
In addition, K-12 schools will be allowed to resume indoor classes once the county has been in the red zone for at least 14 days.
As of Tuesday, only Sonoma, Contra Costa and Monterey counties remained in the purple zone among the greater Bay Area counties.
Statewide, cases continued to trend down over the last week, according to Ghaly and Dr. Erica Pan, the state's acting public health officer.
New coronavirus cases per day per 100,000 residents fell to 6.4% statewide while the state's test positivity rate is down to 3.6%. Over the last seven days, the positivity rate is at 3%.
That decrease allowed Ghaly to announce yesterday that nail salons would be allowed to open statewide for all four tiers.
Pan and Ghaly credited the state's efforts to speed up the turnaround time for coronavirus tests for helping public health officials contain outbreaks before they happen through patient isolation and contact tracing.
"Laboratories across the state are reporting results in 1.2 days, with 69% being reported within one day and 90% within two days," Pan said.
Ghaly also argued that the tier system has made it easier for local health officials and state residents to understand the steps needed to reopen various business sectors and the importance of widespread testing. — Bay City News