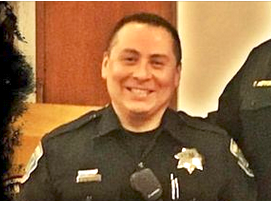 Despite "serious concerns," San Mateo County District Attorney Steve Wagstaffe said today that his office will not pursue criminal charges against a San Mateo police officer who fired more than a dozen rounds at two women suspected of retail and vehicle theft last year.
In a letter to San Mateo Police Chief Ed Barberini, San Mateo County District Attorney Stephen Wagstaffe said that while he questioned Officer Juan Ramirez's actions in the case, he did not find it likely that a jury would find him criminally liable for injuring the two women last September.
Ramirez, a six-year veteran of the San Mateo department at the time, was on patrol the evening of Sept. 28, 2019, when he observed an unoccupied white Chevrolet sedan that was missing registration tabs and a front license plate, according to the DA's office.
The car was parked in a handicapped parking space in front of the Macy's at the Hillsdale Mall. Ramirez also noticed several clothing items on hangers inside the vehicle but no shopping bags.
A search for the sedan's license plate found that the plate actually belonged to a Honda vehicle registered in Anaheim, leading Ramirez to suspect it had been stolen.
After requesting back up from the department's plain-clothes Crime Reduction Unit, the investigation found that Ramirez observed two women enter the car and begin to drive away on southbound El Camino Real.
Ramirez signaled the vehicle to stop but the driver, later identified as 30-year-old Newark, Delaware, resident Rickita James, accelerated away from him and turned onto northbound El Camino Real at 36th Avenue.
Ramirez and officers with the Crime Reduction Unit continued following the sedan onto Hillsdale Boulevard and then to the cul-de-sac of Hillsdale Court.
Ramirez and another officer, Joshua Gatti, blocked the sedan at the end of the cul-de-sac by placing their patrol cars next to each other in the roadway.
Ramirez saw James accelerate toward him and Gatti with the intent to strike them, prompting Ramirez to fire nine rounds into the sedan, the DA's report said.
As the sedan came to a brief stop, Ramirez approached it on foot and circled around behind it when James proceeded to back up toward him, the investigation found. Ramirez fired another eight rounds into the sedan and told investigations he was prepared "to get my legs broken" by the sedan.
Gatti told investigators that while he heard Ramirez shoot at the vehicle, he never saw the shooting occur and was not in a position to observe the threat Ramirez perceived.
The sedan came to a rest in front of 532 E. Hillsdale Court, at which point officers approached the vehicle and found James and 27-year-old Philadelphia resident Taleah Johnson inside suffering from multiple gunshot wounds.
Both women were taken to Stanford University to receive medical treatment for their wounds. James suffered "significant injury" to her lungs, kidneys, blood vessels, nerves and bones in both arms.
James was treated for four to six gunshot wounds and was eventually discharged, but lost the full use of her right arm. Investigators were not made aware of the extent of Johnson's injuries.
Investigators found that James had rented the sedan near Los Angeles International Airport on Sept. 26, 2019, and stole the license plate from the Honda before driving to Northern California.
Several stolen items were recovered from the vehicle, including from stores at the Hillsdale Mall.
Investigators suggested Ramirez followed standard police officer training and guidance in using lethal force due to the perceived threat of the vehicle striking him.
David Blake, an expert on police use of force and a doctoral candidate in performance psychology at Grand Canyon University whom investigators collaborated with to review the shooting, opined that Ramirez's heightened state of stress may have influenced his actions and the actions of other officers at the scene.
"This may explain in part why Officer Ramirez did not use the generally taught tactic of remaining behind available cover and issuing commands to suspects in high-risk traffic stops like the one under consideration," the district attorney's office wrote in its report.
John Warren, the chief inspector of the district attorney's office Bureau of Investigations, said the district attorney will not be filing charges against James or Johnson in the case. — By Bay City News