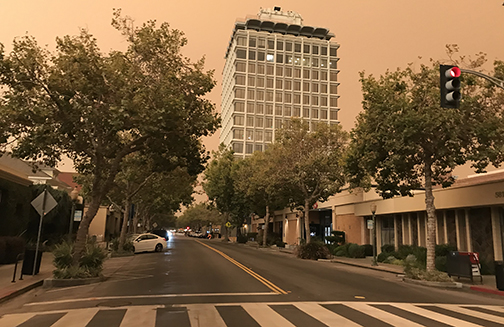 By the Daily Post staff
Mid-Peninsula residents awoke to red, smoky skies this morning.
The National Weather Service says smoke particles from the wildfires in the region scatter blue light and only allow yellow, orange and red light to reach the surface, causing skies to look orange.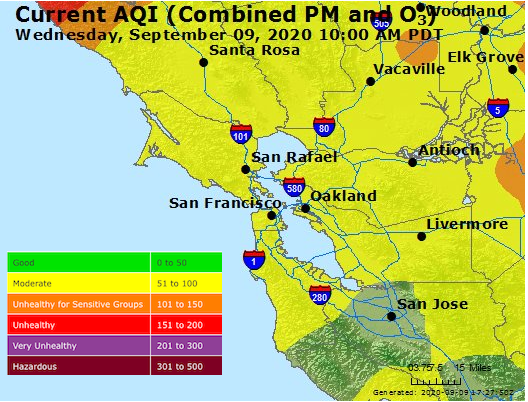 "If smoke becomes too thick in a certain area, most of the light will be scattered and absorbed before reaching the surface, which may cause dark skies," the weather service said in a tweet.
Despite the smoke and ash in the air, the Bay Area Air Quality Management District's air quality map shows the air in the mid-Peninsula is in the "moderate" category, one step below "good."
However, the air district's sensors focus on smaller particulates such as PM10/PM.25. Some of the ash that is falling is larger than PM10 (the width of a human hair) and may not be reflected on the map. Finer particulates remain suspended while the larger ones fall.
The air district has extended the Spare the Air restrictions on burning through Friday because of today's conditions.
"As this morning's eerily dark and orange skies demonstrate, smoke from the many fires that continue to burn throughout the Bay Area and other parts of California are continuing to impact the region," said Jack Broadbent, executive officer of the air district. "Although much of this smoke is aloft, it can settle down to ground level as weather conditions fluctuate, and residents should protect their health by staying indoors when the smell of smoke is present."
On a Spare the Air day, it is illegal to use their fireplaces, wood stoves, pellet stoves, outdoor fire pits or any other wood-burning devices.

The air district is advising residents to protect their health by staying inside with windows and doors closed until smoke levels subside. People should set air conditioning units and car vent systems to re-circulate to prevent outside air from moving inside.