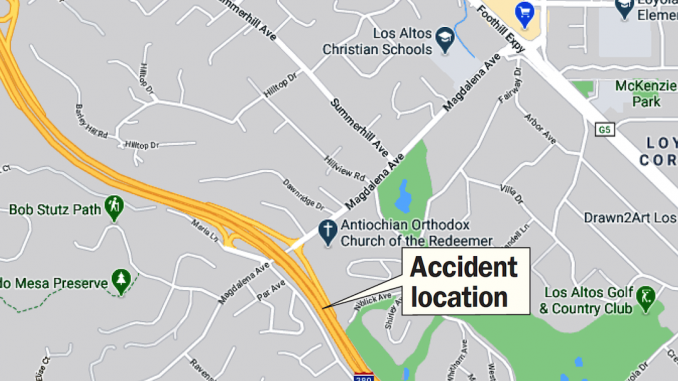 TUESDAY, 12:13 p.m. — A 17-year-old San Rafael boy was killed in a solo-vehicle crash on I-280 in Los Altos Hills, the Santa Clara County Medical Examiner said today.
Ali Modan was one of six young men ranging in age from 16 to 21 who were in a white Toyota Sienna minivan that crashed on the interstate between Foothill Expressway and Magdalena Road at 4:55 p.m. Sunday, according to the CHP.
"The Toyota left the roadway into the center median, for reasons still being investigated, and subsequently overturned (and) then struck several trees," a CHP report said.
The CHP said neither alcohol nor drugs were factors in the crash.
The five survivors were all hospitalized. A 16- and two 19-year-olds are from Mill Valley. Another 16-year-old is from Sausalito, and the 17-year-old who died was from San Rafael.
Investigators are trying to find people who saw the accident. Witnesses are asked to call the CHP at (650) 369-6291.
SUNDAY, 8:43 p.m. — One person was killed and six others injured in a single-vehicle accident tonight on northbound Interstate 280 south of Magdalena Road, Santa Clara County firefighters said.
Firefighter paramedics and the CHP were called just before 5 p.m. to that location, where they found one vehicle with seven people inside. Santa Clara County Fire Department firefighters said one person in the vehicle was pronounced dead at the scene; six others were taken to nearby hospitals, two with major injuries, two with moderate injuries and two with minor injuries.
The accident is under investigation, and its cause had not yet been established. Early indications are that no other vehicles were directly involved in the accident. — Bay City News