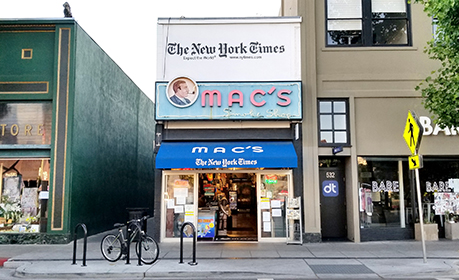 BY SARA TABIN
Daily Post Staff Writer
The owners of five Palo Alto retailers including Mac's Smoke Shop today filed a lawsuit against the city, saying City Council's flavored tobacco ban will destroy their businesses and put their families on the street.
City Council voted 4-3 in May to ban the sale of vaping products like Juul and flavored tobacco to stop kids from picking up the habit. The ban will likely result in the closure of the 86-year old Mac's at 534 Emerson St. and four other businesses — Hookah Nights Lounge, Smokes & More, Smokes & Vapes and Raw Smoke Shop.
"We're drowning rats trying to hold on to everything we can to save ourselves," Mac's owner Neil Khoury said today.
Khoury said the owners of the five businesses don't have time to finish selling off their inventory before they have to shut down. He said they have all taken out loans and owe rent and utility money. Khoury said without relief, the business owners at risk of losing their homes.
"We are in so much debt with COVID-19 that if we don't have an extension, we will all be homeless," he said.
He said it isn't fair that the city is targeting flavored tobacco and not other tobacco products or products like alcohol.
He pointed out that City Manager Ed Shikada originally proposed an exemption to help the five small businesses stay afloat.  But Councilwomen Lydia Kou and Alison Cormack and Councilmen Eric Filseth and Greg Tanaka decided to ban flavored tobacco without exception.
Kou and Tanaka are up for re-election this November.