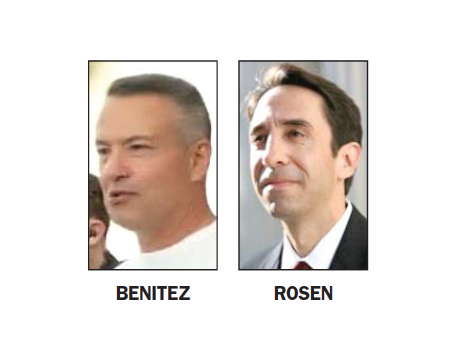 BY SARA TABIN
Daily Post Staff Writer
Santa Clara County District Attorney Jeff Rosen said Wednesday (July 22) he will decide soon whether to charge retired Palo Alto police Sgt. Wayne Benitez, who was caught on video slamming the head of a gay Latino man on the hood of a car.
Just before slamming his head, Benitez says, "So you think you're a tough guy?"
The video also includes a voice, believed to be that of Benitez, mocking 39-year-old Gustavo Alvarez because he's gay.
Last month, Rosen's office said it could not bring misdemeanor assault charges against Benitez because the one-year statute of limitations had expired since the incident happened on Feb. 17, 2018.
But a few days later DA spokesman Sean Webby said Rosen reconsidered his legal options "after determining, in fact, there is legal authority that establishes a longer statute for this crime when charged as a misdemeanor." Rosen, speaking at a news conference in San Jose on Wednesday, said a decision on the Benitez case is "forthcoming."
The city of Palo Alto agreed to settle a police brutality lawsuit by paying Alvarez $572,500 and having Benitez apologize to Alvarez. NBC Bay Area says the FBI has opened a civil rights investigation into the Alvarez beating.
Rosen said yesterday that no other Palo Alto cops are under investigation.
DeStefano avoided charges twice
The Post asked Rosen about his office's decision to let Palo Alto Officer Thomas DeStefano off with an infraction for a 2017 drunken hit-and-run in which he lied to San Jose police, according to a San Jose police report and a Palo Alto Independent Police Auditor report.
Rosen said there is additional information about that case which influenced its outcome, but he would not provide any details.
Rosen also decided not to charge DeStefano for a violent arrest last July that shattered the bones around Palo Alto resident Julio Arevalo's eyes and caused Arevalo to sue the city for $10 million.
At the conference, the Post asked Rosen about the status of his investigation into Santa Clara County Sheriff Laurie Smith.
Last August, Rosen served a search warrant on the Sheriff's Office to grab cellphones, computers and electronic records. Metro and the Mercury News were told by anonymous sources that Rosen was looking into whether Smith allegedly gave conceal-carry weapons permits to campaign contributors. Rosen said the case is being "actively investigated" nearly a year after the search and he could not discuss it further.
The search of the Sheriff's Office came after Smith told Rosen he couldn't secretly record the phone calls of inmates because of a court ruling.
DA drops death penalty
The Post asked Rosen about the status of the Benitez and Smith cases at a news conference in San Jose where Rosen announced new policies that respond to the outcry over the killing of George Floyd in Minneapolis. Perhaps the most significant change was that Rosen said he would no longer seek the death penalty against murderers.
Statistically, the number of death penalty cases district attorneys have filed across California has been declining. The state hasn't carried out an execution since 2006. In 2019, Gov. Gavin Newsom announced a moratorium on the death penalty, granting a stay of execution for all of the state's 737 inmates on death row.
Prosecutors have lost interest in death penalty cases because they're time-consuming and expensive, and guilty verdicts will be appealed, adding to the time and cost of such a case.
Moreover, public opinion is changing. In 2016, a ballot initiative to repeal the death penalty failed, but 47% of California voters were in favor of abolishing the system. In that same 2016 election, Prop 66, which called for accelerating death penalty cases, passed with 51% of the vote. Under that law, death penalty appeals can take no longer than five years.
Rosen wants to end cash bail
Rosen said he will also try to end cash bail, instead allowing people out of jail based on whether they are dangerous. The movement over ending cash bail has been fought out in the Legislature.
Moving forward he will file incidents where people drive with licenses that are suspended for unpaid traffic tickets as infractions instead of misdemeanors. He said he will create a Public and Law Enforcement Integrity Team to investigate the excessive use of force by police officers.