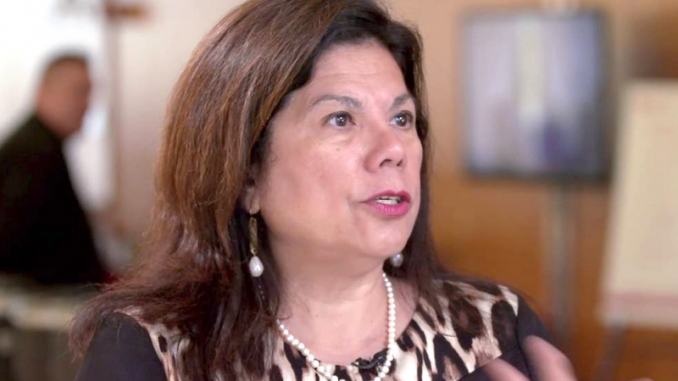 BY ELAINE GOODMAN
Daily Post Correspondent
Santa Clara County residents' views on COVID-19 seem to fall into two categories, officials said during a telephone town hall meeting.
"People are either terrified that they're going to get sick and they want to stay in a bubble," said Dr. Yvonne Maldonado, chief of infection control at Stanford University. "Or they think, well my risk is so low, so I'm just going to go out and pretend the virus isn't there. And neither of those are probably the right responses."
Instead, Maldonado said, people should focus on taking precautions including wearing masks and practicing social distancing as the county gradually reopens. That's how to avoid the "random opportunity to get infected" at a gas station or grocery store, she said.
Maldonado's comments came Sunday (June 28) during a 90-minute telephone town hall meeting on COVID-19 hosted by Santa Clara County Supervisor Joe Simitian.
The town hall meeting followed Friday's announcement by Santa Clara County Health Officer Dr. Sara Cody, who said she expects to release a new public health order this week. She said the new order would no longer deal separately with different sectors, such as retail and manufacturing.
Rather, "many activities will be allowed to resume with appropriate risk reduction measures in place," Cody said in a news release on Friday. The county's last update to its stay-at-home order was on June 5, when indoor retail and outdoor dining at restaurants were allowed.
Many have been frustrated that Santa Clara County has lagged behind other Bay Area counties in reopening the economy since COVID-19 stay-at-home orders were first issued. Some submitted questions during the town hall meeting asking when hair salons and gyms in the county would be allowed to reopen.
"I think when you see the public health officer's updated order sometime in the middle of this coming week that you're likely to see something that affects those particular institutions," Simitian said.
Another listener asked about the reopening of public schools in the fall. County Counsel James Williams said the decision of whether to conduct classes online or in-person is a complicated one, since it involves the county health officer, the county superintendent of schools, the state Department of Education, as well as superintendents and school boards of individual districts.
Dealing with those who don't wear masks
A listener from Palo Alto wanted to know what to do when she sees someone not wearing a face covering or practicing social distancing.
Maldonado advised the listener to use caution when approaching others. The COVID-19 precautions have become politicized, she said, and people have become testy after weeks of stay-at-home orders.
"It's hard right now to predict how people might behave," she said.
Williams said the county health orders are legally enforceable, but it's up to local police departments to decide whether to enforce them.
Simitian recommended that residents let businesses know that their efforts to comply with the health orders are appreciated — or that their lack of compliance has been noticed. The district attorney's office has a form for reporting businesses that don't comply, Williams said.
A new normal
Williams said residents need to adjust to a "new normal" when it comes to COVID-19. Just as people now don't give a second thought to wearing a seatbelt while driving, wearing face coverings and social distancing should become automatic, he said.
People "need to be focused on the core, clear … safety precautions that we all need to take in going about day-to-day activities, engaging in business and commerce, visiting with family or others, and the need to be able to resume as many things as we can, but in a new normal," he said. "A new normal because we're going to be dealing with COVID for a very long time."
A recording of the town hall meeting will be posted on Simitian's webpage in the next few days.