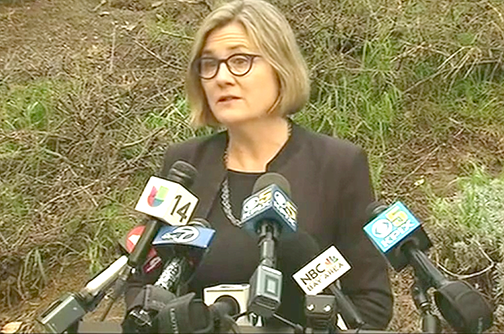 By the Daily Post staff
Santa Clara County's health officer, Dr. Sara Cody, issued a "guidance document" this afternoon (June 30) regarding schools, but it doesn't say whether schools could reopen for in-person instruction this fall, and it appears football, choir and band are in jeopardy of being canceled.
Cody said that whether schools re-open for in-person instruction will depend on the containment of the coronavirus in the weeks ahead.
She said there will be "forthcoming guidance" for athletics. However, many high school football teams are holding practices already.
While football wasn't specifically mentioned in the new guidance, it tells schools: "Do not allow electives and extracurricular activities in which physical distancing (at least six feet) and face covering use cannot be maintained at all times." Football, a sport where players come into contact with one another on every play, seems to be ruled out by that part of the order found on page 14.
Cody's statement means the cancelation of band, choir and cheerleading. It prohibits "aerosol generating activities, including in-person choir, band and vocal cheerleading activities (cheers and chants)."
Cody, a Palo Alto resident, is being protected by sheriff's deputies because of public reaction to her lockdown orders that began March 16. It was the first stay-at-home order issued in the United States. At the time, health officials said they expected the order to last for three weeks so they could "flatten the curve."
Today, June 30, is the 106th day of the county health order.
After the Post posted an earlier version of this story describing the document released today as an "order," a spokeswoman for the Health Department, Britt Ehrhardt, called to ask that the word "order" be changed to "guidance document." However, Ehrhardt acknowledged, however, that the document contains requirements for schools. Orders from county health officers also contain requirements that are enforced by law.
The new "guidance document" says elementary students must only have contact with their own teacher and other students in their class. They won't be able to mix with kids in other classes. High school students will be required to wear masks while at school and observe social distancing rules.
Here's a link to today's document regarding schools.
The county says schools should:
• Require all adults to wear masks at all times while on campus. Students from pre-K to grade 12 must wear face coverings while arriving or leaving school, in any area outside the classroom, and while waiting for a school bus.
• Elementary students don't have to wear masks in the classroom, but middle and high school students must wear them, even in the classroom.
• Designate routes for entry and exit into school buildings to avoid crowding at doorways.
• Instruct parents to stay in their cars when dropping off or picking up kids.
• Require adults visiting campus to wear masks.
• Keep elementary classes together with the same teacher the entire school day, and not allow students to mix with other kids at school.
• Maximize the space between desks.
• Put the teacher's desk at least six feet away from students to minimize the possibility of virus transmission.
• Make class sizes as small as possible.
• Ensure adequate supplies to minimize the sharing of "high-touch materials" like art supplies, electronic devices, etc.
• Students should eat lunch in the classroom or outdoors, not the cafeteria.
• Consider closing teacher lounges and encouraging employees to eat outdoors or in well ventilated spaces.