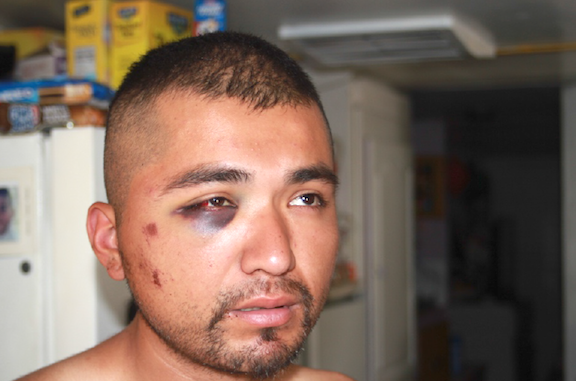 By the Daily Post staff
Attorneys have filed a $10 million federal lawsuit against the city of Palo Alto, Police Chief Robert Jonsen, Police Agent Thomas DeStefano and seven other officers over the violent arrest of Palo Alto resident Julio Arevalo outside Happy Donuts on July 10, 2019.
DeStefano arrested Arevalo by throwing him to the ground in an incident caught on video. DeStefano told police investigators that he suspected Arevalo of dealing drugs. But it turned out Arevalo wasn't in possession of any drugs, though he tested positive for amphetamine use.
No charges were filed against Arevalo by the District Attorney.
The suit claims police denied medical care to Arevalo. "Despite being knocked unconscious, suffering a traumatic brain injury, suffering lacerations, suffering injuries to his wrist, knees, and legs, and suffering a broken eye socket/orbital bone after being violently attacked by Defendant PAPD Agent Thomas Alan DeStefano Jr., Julio wasn't taken to the hospital until nearly two-hours after he was knocked unconscious and suffered a head injury (along with a fractured orbital bone)," the suit says on page 5.
The 199-page lawsuit claims the Palo Alto Police Department tolerated and accepted criminal conduct by its officers, and it cites as an example the claim that DeStefano was charged with misdemeanor hit-and-run in a January 2017 incident in San Jose while off-duty.
The lawsuit states on page 58 that DeStefano "repeatedly lied and about his involvement to the San Jose police officers investigating the incident and in fact fabricated a story to try to obstruct the San Jose Police investigation (all while Agent DeStefano was under the influence of alcohol/intoxicated)."
An Independent Police Auditor Report, while not identifying DeStefano by name, said a similar misdemeanor hit-and-run was settled with a plea bargain where the officer pleaded guilty to an infraction, same as a parking ticket. The officer referred to in the auditor's report had been placed on administrative leave for five months.
Police auditor reports never mention officers by name, but the facts in the auditor's report line up with the allegations in the Arevalo suit.
The auditor noted that while the officer denied committing the hit-and-run to the local police department, he admitted it under questioning with Palo Alto police.
The Arevalo lawsuit, filed yesterday in U.S. District Court, provides a history of race and brutality allegations made against Palo Alto police going back to the 2003 beating of black resident Albert Hopkins, who refused to give officers his ID. It also mentions the use of the n-word by Capt. Zach Perron to a black officer, which was first reported by the Post last May. And, in the history section of the lawsuit, says the City Council last December "voted unanimously to drastically limit the scope of information previously provided to the public" by changing the contract with the Independent Police Auditor, who reviews internal disciplinary reports.
"This made it significantly easier for (and was, on information and belief, designed by) defendants PAPD and city of Palo Alto to hide misconduct. And, this made it harder for the public to identify corrupt, dishonest, and/or violent officers within the department," the Arevalo suit says on page 104.
The Arevalo suit comes as no surprise to police and city officials. Arevalo's attorneys submitted a claim in November for $3.8 million over the incident. Under state law, before plaintiffs can sue a city, they must file a claim to give the city a chance to either pay the amount sought, reach a settlement or deny the claim. If the city denies a claim, the plaintiff can sue.
The city is also familiar with Arevalo's attorneys, Cody Salfen and Samuel Gordon of San Jose. They represented Gustavo Alvarez, who received a $572,500 settlement from the city after now-retired Sgt. Wayne Benitez was caught on video slamming Alavarez's head on a car windshield in a Feb. 17, 2018 incident.
Defendants in the lawsuit, in addition to the city, Police Department, DeStefano and Jonsen, include Sgt. Dujuan E. Green, Sgt. John Alaniz, Officer Nick Enberg, Officer Brian Connelly, Officer Ian Johnson, Officer Sascha Priess, Lt. Ben Becchetti and records manager Lisa Scheff.
The Post will have more details about this suit in tomorrow morning's edition.