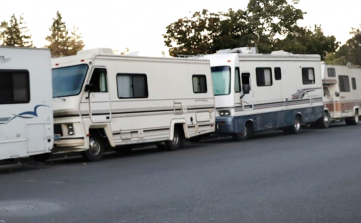 BY EMILY MIBACH
Daily Post Staff Writer
The Redwood City Council went ahead with a $650,000 plan for opening an overnight parking lot for 30 RVs, despite calls from the public to add more housing.
Many of the 15 or so speakers last night (June 22) said they want more low-income housing and transitional housing, for people who are coming out of homelessness, to be built in town.
A resident who only identified herself as Jocelyn said that while the city did approve for some low-income housing to be built downtown, she has seen far more luxury apartments built in town recently, saying that every time she comes home from college, there is a new development going up.
Others who raised concerns with the program, such as Lucy Burns, were worried about what she said was the unnecessary policing of people with RVs if they park on city streets without a permit.
But others, such as Bobby Watson, who owns Hoot Judkins Furniture on Veterans Blvd. near Party City, said the RV dwellers and the trash they leave behind have disrupted business for him and thinks the new program is a great step in the right direction.
Over the next few months, the city will work with the county and East Palo Alto-based Project WeHope to establish a parking lot next to the Maple Street jail, east of Highway 101, where up to 30 RVs can be parked overnight.
Those who park in the lot will have to work with Project WeHope's social workers who will help them find stable housing and get them any other help they may need.
The rest of the estimated 102 RVs that were on city streets as of May 13, will have to sign up to get a free permit from the city to park overnight on city streets, staying in one location for three days at a time. Those who get permits will also have to work with Project WeHope's social workers.
The plan, as laid out by councilwomen Giselle Hale and Diana Reddy, calls for the parking lot to operate for two years. They say most of the RV dwellers are former Redwood City or San Mateo County residents who were forced to live in RVs due to high rents. The two council members hope that after two years, those people would have found housing.
A small portion of the RV residents have homes from outside of the city but park their RVs around town during the week to work in the area, according to the councilwomen. The program is slated to cost the city $650,000 a year.
ᐧ