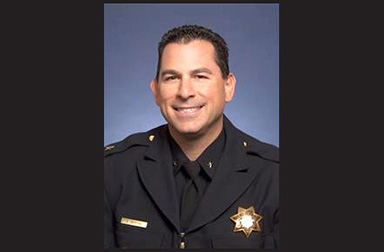 BY EMILY MIBACH
Daily Post Staff Writer
During Thursday's town hall meeting on policing in Menlo Park, Housing Commission member Karen Grove accused Police Chief Dave Bertini of using a racial slur during an ethics training for commissioners.
She didn't say what the slur was. But minutes after the town hall meeting, Bertini announced his retirement, saying he lacked the confidence of council members.
Today, the Post asked Grove to elaborate on the slur. She said that last September Bertini told city commissioners during the training session that most people don't go into politics to be corrupt, but that it occurs sometimes. He pointed to the example of former state Sen. Leland Yee, D-San Francisco, and his involvement with Chinatown crime syndicate leader Raymond "Shrimp Boy" Chow.
Bertini said he couldn't remember Chow's name, but that it sounded like something on a Chinese restaurant menu, according to Grove.
The Post reached out to Bertini to get his side of the story but did not hear back.
Grove said she told Bertini at the time that while Chow was not a good person, that it is still inappropriate to use a racialized slur when referring to him. Bertini then told Grove that he was referring to Chow's nickname of "Shrimp Boy."
The training went on, but Grove said she still felt unsettled by the comment, so she scheduled a meeting with Bertini. In the meeting, Grove said she tried to offer constructive criticism and to see if Bertini was "willing to listen and see the impact of his words and engage."
"I got the answer, and he was not," Grove said, saying that her conversation with Bertini reflected his answers at the June 4 city town hall meeting on policing, where he was a panelist.
During last Thursday's town hall, people critiqued Bertini's answers during that town hall meeting. Olatunde Sobomehin, head of East Palo Alto's StreetCode Academy, said he felt disrespected and that Bertini was "defensive" and "put the buck on people of color to learn what's happening with the police."
Other callers said that Bertini responded to questions by telling them to read the police policy handbook, which some said is not totally user friendly.
After the training incident, Grove emailed City Manager Starla Jerome-Robinson and then-Mayor Ray Mueller about the meeting and urged them to attend the Government Alliance on Racial Equity conference in Oakland that would be occurring a few days later.
On Thursday, after two and a half-hour meeting where community members and the council discussed police reform and aired grievances about the police, Bertini announced his retirement. Bertini said that it was "obvious" that he had lost the trust of the council and that the community needs a fresh start given all of the recent unrest, and the best way to do that is without him at the helm.
ᐧ