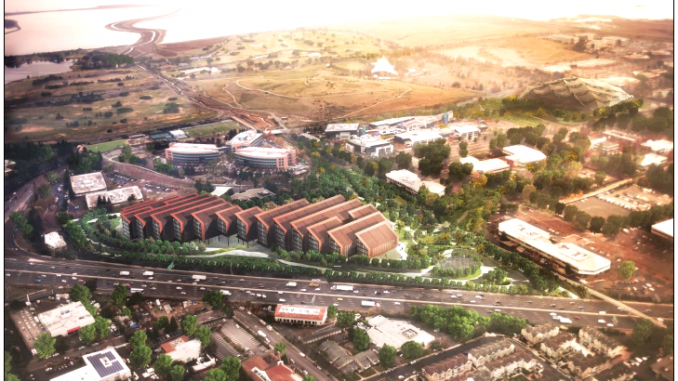 BY SARA TABIN
Daily Post Staff Writer
Mountain View City Council on Tuesday (June 23) will vote on Google's proposal to build an office building on Landings Drive that would be as large as 40 Palo Alto Midtown Safeway stores.
Planning Manager Stephanie Williams advised council to approve the project in a memo. She said the proposed development fits within the city's vision for the North Bayshore Area and the architectural design for the project is compatible with the surrounding area.
Large glass windows
The new Google campus, a 799,482-square-foot "shed-like" building with large glass windows, will be located south of Charleston Road and north of Highway 101.
A four-story parking structure with ground-floor retail space will be located between Alta Avenue and Huff Avenue. The two properties will be connected by a pedestrian and bicycle path that will bridge Permanente Creek.
The council will also need to grant Google a permit to remove 414 heritage trees on Landings Drive. Google said last fall that it will spend $400,000 on landscaping to replace the trees that will be torn down.
Council members said they were fine with the plans during a study session in October, but Councilman John McAlister said he would like Google to open up land for housing or parking lots for people who live in RVs. On June 2, Donna Yobs of the League of Women Voters of Los Altos-Mountain View Area sent a letter to the city saying Google should build housing in the city alongside the office project.
"We understand that Google is entitled to build this office square footage and that the zoning in this area does not allow residential," she wrote. "Obviously, we would like to see a major housing development being built in tandem with the Google Landings project as new office space only exacerbates the jobs/housing imbalance."
Benefits to city
Under the proposed plan Google is supposed to give the city benefits estimated at $44.6 million.
Of the money, $15 million is from Google's planned naturalization of Permanente Creek and another $5.8 million is because the new building will work with the city's recycled water program to treat and reuse rainwater and stormwater for non-potable uses. The remaining $23.8 million will be paid directly to the city for uses including a new children's park, money for improving transportation and funding for homelessness services.
The tech giant hasn't been entirely generous with the city. In February 2018, Mountain View agreed to pay Google $28 million for 77,776 square feet of land at the intersection of Plymouth Street and North Shoreline Boulevard, not far from the Landings project site, so that the city could build an intersection to improve traffic.
Council talked about the deal in a closed session in September, but no changes have been announced.