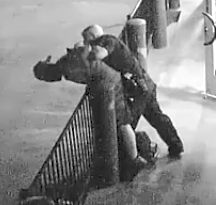 By the Daily Post staff
Palo Alto police tonight (June 19) released a video of a violent 2019 arrest outside Happy Donuts in which the arrestee suffered broken bones around one eye.
Here's a link to the video, which was released following a public records request by the Post.
Julio Arevalo, the arrestee, has filed a claim for $3.8 million against the city over what he said was a violent attack by police Agent Thomas DeStefano.
The July 10, 2019 arrest took place outside the door of Happy Donuts at 3916 El Camino Real.
DeStefano believed Arevalo had been involved in a "hand to hand" drug deal, police said. Upon encountering Arevalo, DeStefano suspected Arevalo was under the influence of drugs.
After arresting him and taking him to the police station, officers realized Arevalo's face was swelling. So officers drove him to the hospital where a doctor determined he had a "fractured orbital socket," which is when the bones around the eye are broken.
On Jan. 10, the Post filed a California Public Records Act request seeking DeStefano's body-camera video of the incident, but police refused to release it until today.
Two laws, Assembly Bill 748 and Senate bill 1421, require police to release video in certain use-of-force incidents such as this one within 45 days. It took 161 days for Palo Alto police to comply with the law.
In his $3.8 million claim against the city, which was filed by attorney Cody Salfen of San Jose, Arevalo said that DeStefano included false information in his report about the incident. Arevalo also said in his claim that he was denied proper medical care, though police said he was treated and released by medics at Happy Donuts and was later taken by police to the hospital when his face began to swell during the booking process at the police station.
If the city denies Arevalo's $3.8 million claim, the statute of limitations gives him until July 10 to sue the city.
Salfen is the same attorney who represented Buena Vista Mobile Home Park resident Gustavo Alvarez, whose head was slammed against a car hood by now-retired Palo Alto police Sgt. Wayne Benitez on Feb. 17, 2018. The city paid $572,500 to settle a suit Salfen brought against the city on behalf of Alvarez. Santa Clara County District Attorney Jeff Rosen is now considering whether to file assault charges against Benitez, who retired while the civil suit was pending.
Related stories
• City paid $250,000 to settle 2013 brutality suit against DeStefano, who has now been accused again (Nov. 30, 2019)
• Cops to release alleged beating video (Jan. 20, 2020)
• City withholds police arrest video — chief says case still under investigation (March 5, 2020)
• City paid $250,000 to settle 2013 brutality suit against DeStefano, who has now been accused again (Nov. 30, 2019)