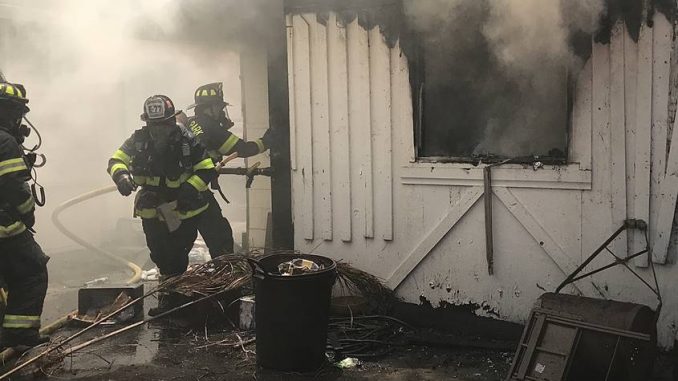 By the Daily Post staff
Another fire in the homeless encampment off of University Avenue near Bayfront Expressway was one of three blazes put out by Menlo Park firefighters in three hours.
The second fire Thursday struck a small studio-like building behind 847 Bell St. in East Palo Alto and the third was a grass fire that also burned a portion of an eight-vehicle carport at 1730 Bay Road in East Palo Alto.
The three fires capped a busy week for the fire district, which reports that its trucks were pelted with rocks as it responded to an emergency call on Bay Road on Monday during protests over the George Floyd killing.
That prompted Fire Chief Harold Schapelhouman to board up Station No. 2 on University Avenue in Menlo Park on Tuesday.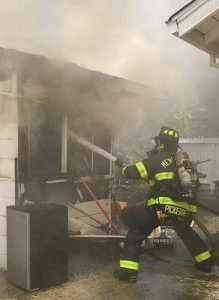 "However, with the overwhelming success of the curfew, more organized and community based peaceful protests, we unfortified our facilities (Thursday) and we had essentially gone back to business as usual," Schapelhouman said in a statement issued early today.
"It's been an interesting and challenging couple of weeks," Schapelhouman said. "As the number of Covid emergency medical response incidents has continued to drop dramatically, we almost immediately were confronted with a spike in the number of encampment fires. At the end of last week, we were pivoting to fully focus on resolving those long standing issues when all of our attention was needed to address potential protests, civil unrest, threats of looting, coordination with our law enforcement public safety partners, an increase of our daily staffing, strategically moving fire units and modifying our deployment, which had occupied all of our time."
The first fire on Thursday was in an area known as the "Triangle" or the open space area bordered by Willow Road, Bayfront Expressway and University Avenue known to be the site of multiple encampments and problems.
It was the second fire in this general location in the last week, fifth fire in the last month and almost 100th emergency incident in these encampments in the last three years, according to Schapelhouman. Arson is a possibility, he said.
The fire was reported at 1:03 p.m. and firefighters were done by 1:46 p.m.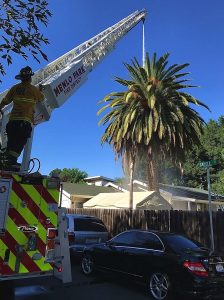 Then at 2 p.m., dispatchers get a call about a structure behind the house at 897 Bell St. in East Palo Alto that was on fire. The two occupants escaped and firefighters stopped the fire from spreading to the house. A malfunctioning refrigerator is blamed in the fire that caused $50,000 damage.
At 3:39 p.m., dispatchers get a report of a grass fire in a field behind 1730 Bay Road. The fire spread to a bamboo stand and then jumped to a carport and a palm tree (see photo on the left). The fire was under control by 6:25 p.m. and Schapelhouman said the cause may be juveniles setting off fireworks illegally.