BY EMILY MIBACH and SARA TABIN
Daily Post Staff Writers
San Mateo County and Palo Alto officials have imposed an 8:30 p.m. curfew to keep people off the streets following what one official said was a "credible threat" of looting.
This means that from Daly City to Palo Alto, no one is allowed to be out and about between 8:30 p.m. and 5 a.m. except for emergency personnel, utility workers, reporters, those going home from work or those seeking medical care. The orders also exempt homeless people from the curfew.
San Mateo County's order ends on Thursday. Palo Alto's order lasts 10 days, ending next Thursday, June 11.
It wasn't immediately clear why Palo Alto felt it needed a 10-day curfew when other cities in the Bay Area have shorter curfews.
City Manager Ed Shikada and Police Chief Robert Jonsen didn't return the Post's calls seeking an answer to that question.
Palo Alto Mayor Adrian Fine told the Post that he supports the curfew but thinks 10 days is too long. He said the city should have tried the curfew for a few days and then extended it if needed.
Other cities like San Francisco and San Jose have imposed curfews for a few days but not 10.
Fine said he asked Shikada about the length and was not given a clear answer.
Fine said the curfew was implemented because of a "credible threat" of looting in Palo Alto. He said the city government is doing its best to protect people's property.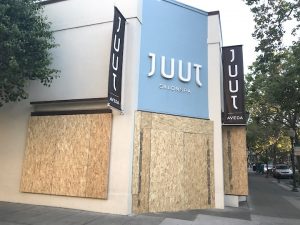 Many businesses downtown boarded up their stores in anticipation of possible looting. Verizon, Apple, Arnoldi Jewelers, Sweet Greens and Juut Salon Spa were all boarded up this evening.
Fine said the curfew will postpone the city's plans to close California Avenue and University Avenue to traffic to allow restaurants to seat people outdoors while observing social distancing rules set by the county to contain the coronavirus.
Outdoor dining is allowed under the county's new order starting Friday.
When asked about the restaurants, Councilman Tom DuBois said it will also be bad if they have their windows smashed. Like Fine, he cited a "credible threat" of attacks on high-end stores. He said police departments in the Bay Area have heard about organized groups using protests as cover to attack stores.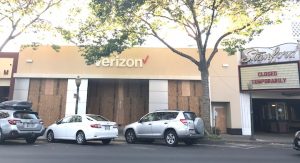 Giuseppe Carrubba, owner of Caffe Riace at 200 Sheridan Ave. and Osteria Toscana at 247 Hamilton Ave., said his businesses were just starting to get back on their legs and the curfew will curtail that. But he said this will pass. Carrubba said he expects protests in Palo Alto to be peaceful and the police to prevent any looting.
A possible curfew was discussed at Monday night's Palo Alto City Council meeting, but no vote was taken. There was no indication that a curfew would be coming less than 24 hours later either.
There do not appear to be any large protests planned for Palo Alto, aside from one scheduled for Saturday at noon at City Hall.
So far, protests in Palo Alto have been peaceful. On Monday, a protest blocked city streets and Highway 101.
"The imposed curfew is to strike a balance between ensuring peaceful and lawful protests while safeguarding against the unlawful actions and organized criminal activity seen locally and throughout the Bay Area that could very quickly threaten harm to our community members and local property," said Shikada, the Palo Alto city manager. "The curfew is an important tool to keep our community and businesses safe during this challenging time."
Meanwhile, the coronavirus shelter-in-place order, which also limited movement of people, is now in its 75th day.
"The county takes our residents' civil liberties extremely seriously and we want to protect their right to peacefully demonstrate over the heartbreaking and preventable death of George Floyd and other violent acts in our nation. However, we also take their safety seriously, and this order is a tool to help prevent looting and civil unrest by those who would take advantage of this highly emotional and tragic period of time," San Mateo County Manager Mike Callagy said.
Protests are planned tomorrow (Wednesday, June 3) in San Mateo and East Palo Alto.
Callagy said there have also been threats of looting in San Mateo County.
Five people have been arrested. Three in Colma that were charged today with looting, said District Attorney Steve Wagstaffe, and two men were en route to Stanford Mall but were arrested in Menlo Park. Those two men have not yet appeared in court.
In anticipation of tonight's potential unrest in Redwood City, storefronts throughout the downtown were boarded up, and county and court workers were sent home early.
Caltrain also decided to not stop trains in Redwood City from 1 p.m. to 8 p.m.
"We ask that our residents adhere to the curfew to maximize everybody's safety. However, the Sheriff's Office and our law enforcement partners stand ready to enforce this order as necessary to protect our community and protect their right to lawfully gather outside of curfew hours," said Sheriff Carlos Bolanos. "There are voices that deserve to be heard, and we will do all we can to ensure they are not drowned out by the unacceptable actions of others."
Curfew violations will be considered a misdemeanor with a maximum punishment of six months in jail or a fine of $500.