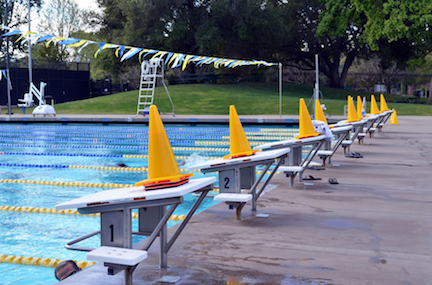 BY EMILY MIBACH
Daily Post Staff Writer
As temperatures reached into the 90s yesterday (May 26), Menlo Park City Manager Starla Jerome-Robinson told the city council that she is trying to get the pools to reopen early next month.
The pools were closed by Gov. Gavin Newsom's stay-at-home order that brought the economy to a screeching halt in mid-March.
Jerome-Robinson said she is working with the city's contractor, Team Sheeper, to amend its contract to reopen one or both of the city's pools. Jerome-Robinson said she plans to bring Sheeper's contract to the council on June 9.
Jerome-Robinson's announcement comes as the council has been flooded with requests to reopen the pools.
Pools can be reopened under the county's latest health order as long as people are not packed together.
Between Sunday and yesterday, the council had received 28 emails from residents asking it to reopen the pools, particularly the one at Burgess Park. The city's other pool is at Kelly Park.
Many emails were similar to Megan Ancker's saying simply: "Please let Burgess pool open with safety protocols, they are ready to be used."
Some residents such as Liz Stapleton Zerella suggested that the city close the locker rooms and allow only one person per lane during lap swim.
"Assuming social distancing protocols are followed, returning to a small slice of normalcy by being able to get some outdoor exercising would do a world of good for people's mental health," Zerella wrote.
Jerome-Robinson also announced last night that the city's main library at Burgess Park will reopen for curbside pick up of books. The Belle Haven library, which is at Belle Haven Elementary, will not be reopening for curbside pick up because the school is not open.
Mayor Cecilia Taylor, whose council district is the east side, asked Jerome-Robinson to work on getting the Belle Haven library to also offer pick-up.