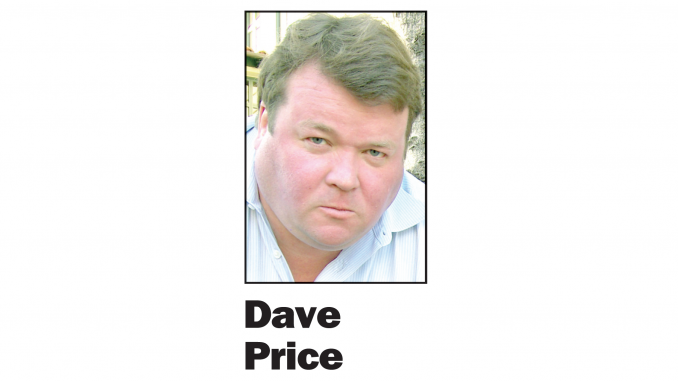 OPINION
BY DAVE PRICE
Daily Post Editor
We were told that this shutdown would last three weeks. We were told that the coronavirus was 10 times more deadly than the flu.
On both counts, our leaders were wrong. The death rate is equal to the flu and the shutdown is now in its eighth week.
Remember our governor telling us that the shutdown was to flatten the curve? And that there would be a shortage of hospital beds? And we didn't have enough respirators?
Wrong on all counts.
The news media played its role, irresponsibly scaring the hell out of people, turning a sizable portion of Americans into hypochondriacs.
One thing is true, we all gave up our constitutional rights without a fight.
Little totalitarians
In fact, the shutdown has brought out the totalitarian tendencies of many people. Look how quickly people are calling 911 to report those who get too close to one another while walking along a sidewalk. Everywhere it seems there's a Barbecue Becky ready to call the police about somebody not wearing a mask.
And this shutdown will continue for months. Under orders from Gov. Gavin Newsom, restaurants cannot reopen dining rooms until the county has one or fewer new COVID-19 cases per 10,000 for at least two weeks.
That's not going to happen for months because the counties are ramping up testing. Those tests will predictably find more cases. There's no containing a virus.
The best course of action is to isolate and protect the vulnerable and reopen the rest of society. We had nearly 80,000 die during the 2017-18 flu season and no businesses were shut down, and nobody was forced to work from home.
Arbitrary decisions
There's a capricious and arbitrary nature to the stay-at-home orders the state and counties have been issuing. Last week, all Bay Area counties except for Santa Clara entered into what Newsom calls Phase 2, where a few types of retailers can reopen, such as car dealers (got to keep that sales tax flowing), florists, shoe stores and sporting goods.
Santa Clara County didn't explain why it was sticking with Phase 1 and taking a slower path than the other counties. Since all these government experts say their decisions are based on data and evidence, surely they can produce the data and evidence that backs up their decision?
Remember, this is the same county that couldn't figure out whether to require people to wear masks.
A class divide
Peggy Noonan, a columnist for the Wall Street Journal, noted that there is a class divide between those who are hard-line on lockdowns and those who are pushing back.
"We see the professionals on one side — those James Burnham called the managerial elite, and Michael Lind, in 'The New Class War' calls 'the overclass' — and the other people on the other side," Noonan writes. "The overclass are highly educated and exert outside influence as managers and leaders of important institutions — hospitals, companies, state houses. The normal people aren't connected through professional or social lines to power structures, and they have regular jobs — service worker, small-business owner."
Noonan points out that since the beginning of the pandemic, the overclass has been in charge — scientists, doctors, political figures, consultants — calling the shots for average people.
The overclass is protected. They won't miss a paycheck. The regular people, who have had harder lives than those who are now determining their fate, are willing to reopen the economy. They know there will be deaths from the virus either way. But reopening will mean fewer bankruptcies and foreclosures, fewer unemployed and ruined lives. They're willing to take the risks. They're always the ones who take the risks. Nobody sent them to Yale.
Noonan says that the regular people look at the overclass and think, "You have no idea what tough is. You don't know what painful is. And if you don't know, why should you have so much say?"
The overclass says, wait three months and we'll be safe. The regular people say, based on their own experiences, that there's no such thing as safe.
Editor Dave Price's column appears on Mondays. His email address is price@padailypost.com.
Previous columns
May 14 — Gov. Newsom, when does this 'moment' end?
April 22 — Time to carefully reopen California
March 6 — This illness might just surprise you