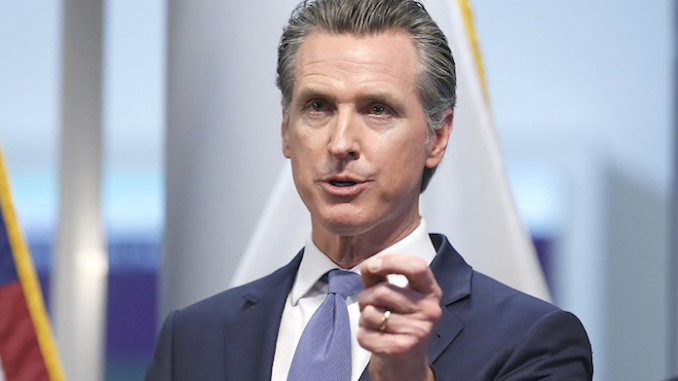 Gov. Gavin Newsom's attempt to allow some businesses to reopen was blocked on Thursday by health directors in six Bay Area counties — including San Mateo and Santa Clara — who want to slow things down.
Newsom yesterday released guidelines allowing more restaurants and retail stores to operate with curbside pickup and delivery starting today.
But the six county health officers said "no" to that and said they will continue to prohibit curbside pick-up at non-essential, non-outdoor businesses such as bookstores, clothing stores and florists.
"We need to continue to work together so those sacrifices don't go to waste," the county health officials said in a joint statement. "It is critical to maintain our gains."
The decision by the county officials flies in the face of Newsom's announcement earlier in the day. At a news conference with state Health and Human Services Secretary Dr. Mark Ghaly, the governor said he will allow manufacturing facilities, some retail stores and other "low-risk" businesses and industries to resume operating, provided that they enforce state health guidelines like physical distancing and test their employees for the coronavirus.
The announcement moves all of California, except for the Bay Area, into the second phase of a four-step process to full reopening. While retailers such as clothing and book stores and florists can reopen in places outside the Bay Area, higher risk businesses like hair salons, gyms and shopping malls will come later provided the state continues its progress.
Began at a nail salon
During his news conference yesterday, Newsom said the outbreak began in California at a nail salon.
Eating at restaurants will come later too, though some counties could start as soon as next week if they meet stringent requirements. Among them: No virus deaths and only one case per every 10,000 residents over 14 days, a minimum of 1.5 tests administered per 1,000 residents and 15 contact tracers per 100,000 residents.
Newsom said he expects counties to hire the tracers, who would track down anyone who has been in contact with an infected person so those people can self-quarantine. Santa Clara County plans to hire 1,000 virus tracers, some of whom will be enlisted from local government agencies and others who will apply for the job off the street.
Spectator sports
Newsom said he doesn't think he'll allow spectator sports like Major League Baseball or the NFL to resume until there is a vaccine, which could take six to 18 months. — From Post wire reports