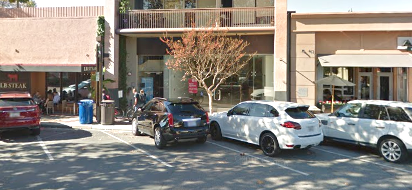 BY EMILY MIBACH
Daily Post Staff Writer
Despite publicizing that she would open up her art gallery yesterday (May 5), the owner of Art Ventures Gallery at 888 Santa Cruz Ave. in Menlo Park did not open up her gallery, according to the city's police chief.
Chief Dave Bertini said he was planning to go talk to Katherina Powers, who runs the art gallery at 888 Santa Cruz Ave., about her plans for opening despite art galleries not being deemed essential services under the county's stay-at-home order.
"I think she got the free advertising she wanted," Bertini said, and added that she likely did not want to get arrested for operating her business while the stay-at-home order was still happening.
Powers had issued a press release that she sent to local media about opening up her studio to the public yesterday.
Powers did not respond to a phone call from the Post yesterday.
However, in her press release, Powers states that opening up the gallery is not meant as a challenge to Gov. Gavin Newsom or disrespect to "those on the front lines, those that have been affected and those other companies out there that are being disrupted by the attempt to curb the spread of the deadly Coronavirus."
"Today's misguided interpretation of what is 'essential' really is a disservice for every artist that has created art through history. An overlook on the impact that art has on a human soul can not be ignored. There is no business categorization that an artist or art gallery deserves during times like this. Art is necessary for all mankind," Powers said in her statement.
Powers in her statement also said that she had opened on Saturday, it was not clear if she had or not.
Bertini said that both Commander William Dixon and City Manager Starla Jerome-Robinson went to the gallery on Monday to talk to Powers. He noted that Jerome-Robinson biked over to the Santa Cruz Avenue gallery.
Menlo Park Police have not made any arrests of people disobeying the stay-at-home order yet, but Bertini said that if push comes to shove, he would.
"That's why I wanted to talk to her today," Bertini said. "I get that her point is that art is essential, but that was also what the people who were saying gun stores need to be open were saying."
Bertini was referencing the issue that gun rights activists have taken to the courts, saying that gun stores are essential during the COVID-19 pandemic.