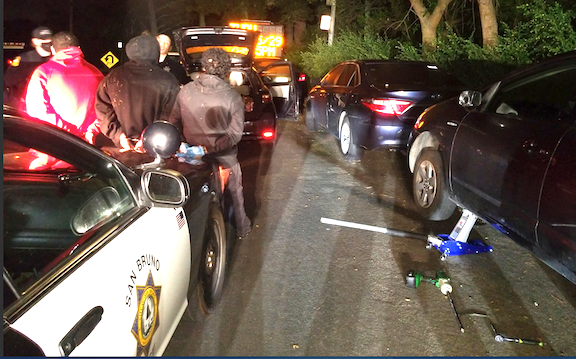 Readers of the Daily Post's Police Blotter know that there's been a jump in catalytic converter thefts in Palo Alto and San Mateo County. Now, three men have been arrested on suspicion of stealing the anti-pollution devices.
San Bruno police say they caught the three men early Saturday morning as they were trying to remove the catalytic converter from the bottom of a parked car.
The three men were seen by a patrol officer about 1:25 a.m. Saturday in the area of Crystal Springs Road and Crestmoor Drive, "tampering with a parked vehicle."
The officer detained the trio without incident, police said.
The three suspects, police said, were arrested on suspicion of attempted grand theft and criminal conspiracy. Police said the three were a 23-year-old San Francisco man, a 21-year-old San Francisco man and a 19-year-old South San Francisco man.
San Bruno, and San Mateo County and Palo Alto, have experienced a significant increase in catalytic converter thefts over the past few weeks. Such thefts have been going on regionally, and nationally for years.
The converters — designed to make the exhaust pushed through them less toxic — contain three metals (platinum, palladium and rhodium) that can fetch good money from recyclers.
Anyone with information related to this case is urged to contact the San Bruno Police Department at (650) 616-7100 or to email
sbpdtipline@sanbruno.ca.gov. — Bay City News