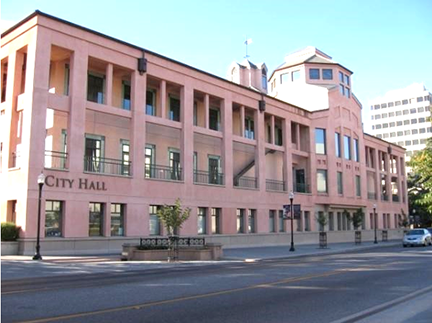 BY SARA TABIN
Daily Post Staff Writers
At a time when many people are being laid off or having their salaries cut, Mountain View city employees are in line to get raises.
City Council will review new one-year agreements with the city's unions at Tuesday's (April 28) meeting. City Manager Kimbra McCarthy said in a memo to council that members of the EAGLES and SEIU unions, which represent most city workers besides firefighters and police, will be getting 3% raises next year under the new agreements. Department heads would also get the raises but council-appointed employees including McCarthy would not. The raises would start June 28.
Police and firefighters would get a 4% raise. Police employees who don't wear badges, mainly office workers, would get 3%.
Department heads would get 3%.
Under the current salaries, an account clerk, represented by the SEIU union, makes about $68,219 before benefits. An SEIU code enforcement officer makes $101,257 before benefits. A library assistant, represented by the EAGLES union, makes about $66,556 before benefits while a wastewater supervisor makes $120,812 and a transportation manager makes $157,752. The public works director makes $233,650.
The memo says the city has a broad enough revenue base to weather the current financial problems caused by the COVID-19 shutdown.
Raises set in Palo Alto too
Palo Alto union workers are also up for raises on July 1 because of contracts negotiated previously. SEIU will get a 2% bump that will cost the city $1.2 million.
The police union will get a 3% raise at a cost of $2.2 million. And firefighters will get a 3% hike at a cost of $1.4 million. Palo Alto is anticipating a $20 million loss to its budget by the end of June because of the economic slow down caused by the stay-at-home order and is looking at what programs will be cut next year.