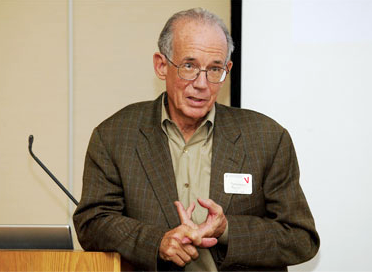 BY EMILY MIBACH
Daily Post Staff Writer
Former Stanford president Donald Kennedy, the neurobiologist who led the school from 1980 to 1992, died yesterday (April 21) of COVID-19 at Gordon Manor, a residential care home in Redwood City where he lived for the past two years, the university announced. He was 88.
Gordon Manor, at 1616 Gordon St., has been hit with an outbreak of the virus with at least two deaths attributed to COVID-19. Kennedy also suffered a stroke in 2015, according to Stanford.
Health officials from San Mateo County have been at the rest home since last week, making sure that the county's health order regarding senior care facilities is being followed. All employees and residents at Gordon Manor are being tested for the virus, which has proven especially deadly for seniors.
In San Mateo County, 28 people have succumbed to the virus and 21 of them were over the age of 71.
As president, Kennedy worked to champion the students. At his inauguration in the Frost Amphitheater on Oct. 12, 1980, he called for faculty to overcome the alienation of the 1960s and to be invested and involved with students.
Kennedy in 2014 was described as the "students' president," by former Stanford board of trustees chair Jim Gaither.
Kennedy added programs such as the Stanford Humanities Center, the Haas Center for Public Service and opened Stanford's Bing satellite campus in Washington D.C. and Kyoto, Japan.
Kennedy was also a record-breaking fundraiser for the school, bringing in nearly $1.3 billion over four years to expand financial aid, add buildings and bring in new equipment. At the time, it was the largest sum raised in higher education, the university states.
In 1985, students took part of protests outside of Kennedy's offices, demanding that the university divest from companies that were doing business with the apartheid regime in South Africa. The university ultimately decided to divest only from companies that supported the apartheid regime.
Kennedy was also at the helm of the university during a high-profile squabble with the federal government in the early 1990s. In question was the possibility that the university had overbilled the government some $200 million since 1980.
Kennedy testified before Congress in 1991 and 1994. Ultimately, the university and the government settled the issue. However, Stanford repaid the federal government $1.35 million and announced a series of reforms.
Kennedy, who was born Aug. 18, 1931 in New York City, had come to Stanford in 1960 after getting his bachelor's, master's and doctorate degrees in biology over the span of four years from Harvard. He later had a four-year stint as a professor at Syracuse University.
Once joining the Stanford biology faculty, he headed the department from 1965 to 1972 and launched the interdisciplinary human biology program, which he led from 1973 to 1977.
Kennedy was known in his department for having an unconventional teaching style.
"I will never forget Donald Kennedy getting up on the lab table at the front of the lecture hall and assuming a quadruped position to demonstrate to us the concepts of dorsal, ventral, cephalo and caudal. His first concern was always with teaching effectively, not preserving his dignity," Ingrid Schwontes Jackoway, a graduate of 1979 said in the Stanford booklet: The Program in Human Biology at Stanford: The First 30 Years, 1971-2001.
In 1977, Kennedy took a break from Stanford to lead the Food & Drug Administration under President Jimmy Carter.
During his two years at the FDA, Kennedy had to deal with the agency's attempt to ban saccharin, an alleged cancer cure called Laetrile and the constant complaints that the approval process for new drugs either took too long and impairs innovation, or doesn't take long enough and introduces dangerous drugs to the public.
Kennedy returned to Stanford in 1979 and became provost. The following year he would be named as president.
After ending his 12 years as president, Kennedy didn't leave the farm. In 1992, he returned as the Bing professor of Environmental Studies.
From 2000 to 2008, Kennedy was the editor-in-chief of Science, a top academic journal published weekly by the American Association for the Advancement of Science.
Kennedy wrote in his memoir, "A Place in the Sunm," that one of the parts he most enjoyed about working for Science was overseeing the journal's editorial page and weighing in on a wide range of research, policy and controversies.
Kennedy was also a trustee of the David and Lucile Packard Foundation from January 2005 to June 2013.
In 2008, Kennedy started teaching again at Stanford, performing a wide variety of tasks for students. He taught undergraduates and master's students in the business school. He advised students and served on dissertation committees.
Outside of academia, Kennedy's interests included trout fishing, skiing and birding.
Kennedy is survived by his wife, Robin Kennedy; their four children, Page Kennedy Rochon, Julia Kennedy Tussing, Cameron Kennedy and Jamie Hamill, and nine grandchildren.
No public service is currently planned, but will be announced by Stanford once people can congregate again.