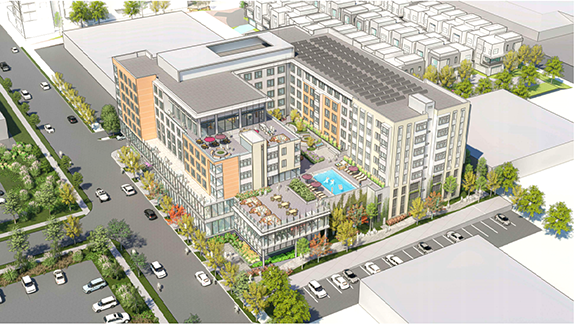 BY EMILY MIBACH
Daily Post Staff Writer
Menlo Park's Planning Commission tonight (April 20) will review Greystar plans for 158 apartments and commercial space, in the same neighborhood where the developer is proposing two other projects.
This project, dubbed Menlo Flats at 165 Jefferson Drive, is the third project proposed by Greystar for the area near the new tech-focused high school TIDE Academy and Facebook's Constitution Drive campus.
Between the three projects, Greystar is aiming to add 961 apartments to Menlo Park. Currently, the other two projects, one consisting of 483 homes and the other, a mixed-use project with 33,000-square feet of office space and 320 homes, is under environmental review.
Another project proposed for Independence Drive by another developer for 105 apartments would bring up the total of new apartments to the area to 1,066.
This project will consist of 14,422-square-feet of commercial space, and among the 158 apartments, 21 will be reserved for low-income earners.
Greystar wants to include 176 parking spaces in the bottom three floors of the building.
Senior Planner Kaitie Meador wants the commission members to comment on the project at the meeting tonight, which starts at 7.
Anyone who wishes to comment on the project during tonight's meeting can go to joinwebinar.com and enter meeting ID 835-003-061.