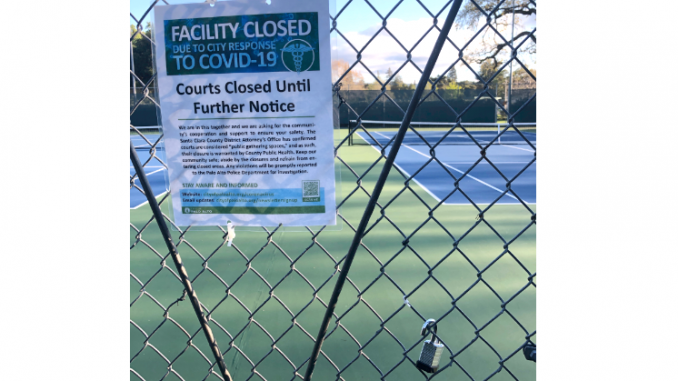 BY SARA TABIN
Daily Post Staff Writer
Palo Alto Mayor Adrian Fine took to Twitter today (March 30) to chastise residents who broke into tennis courts that were closed to prevent players from spreading COVID-19.
"I just found the lock cut and people playing tennis at Rinconada, which have been closed bc #coronavirus," Tweeted Fine. "This is unacceptable and I let the tennis players know why the courts are closed. Everyone: please understand that we can't #StopTheSpread without your help."
City Manager Ed Shikada said last week that the courts were closed to prevent people from gathering on the courts and from spreading COVID-19 by touching the same tennis balls.
Fine told the Post that when people do things like cut the locks on tennis courts, it takes police time away from more important things.
City playgrounds parking lots for city parks, park restrooms and park bathrooms are also closed. City spokeswoman Meghan Horrigan-Taylor said the parking lots were closed because too many people were gathering at the parks and not maintaining six feet of distance.
Everyone is supposed to stay home and stay at least six feet from people who don't live in the same house.
There have been 28 COVID-19 deaths in Santa Clara County. There are 848 diagnosed cases but there are probably a lot more that haven't been tested. The county has stopped releasing the number of people who are hospitalized.
A Twitter used named Richard Jacinto commented on Fine's Tweet, "Bolt cutters? They're probably from Los Altos Hills."