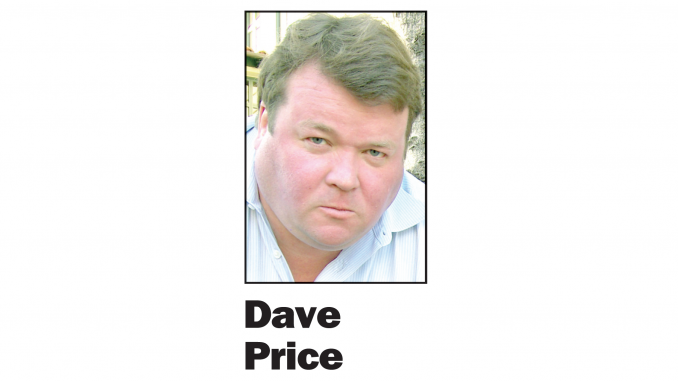 OPINION
BY DAVE PRICE
Daily Post Editor
Today is the 11th day of Gov. Gavin Newsom's stay-at-home order and we don't know when it will end. President Trump said he wished the country would be able to get back to work by Easter, April 12. He was quickly attacked for his hopeful aspiration, and yesterday he extended the U.S. government's social distancing guidelines until April 30.
Will April 30 be the end of social distancing and staying at home? I don't expect the authorities to give us a date for when life can return to normal, but some benchmarks or goals would be helpful. What boxes do we have to check so the stay-at-home order can end?
It's possible that the experts don't know when this will end because they have incomplete data.
Death rate changes
Look at what's happened to the death rate predictions. In early March, the World Health Organization said that 3.4% of people who get COVID-19 will die.
As testing increased, the rate began to drop and scientists learned more about COVID-19. On March 11, Fauci said the death rate would be around 1%, which he said was 10 times more lethal than the flu.
But on Thursday, Fauci was the co-author of a New England Journal of Medicine editorial which states the death rate of the coronavirus will be well below 1%.
"If one assumes that the number of asymptomatic or minimally symptomatic cases is several times as high as the number of reported cases, the case fatality rate may be considerably less than 1%," Fauci and his co-authors wrote. "This suggests that the overall clinical consequences of COVID-19 may ultimately be more akin to those of a severe seasonal influenza (which has a case fatality rate of approximately 0.1%) or a pandemic influenza (similar to those in 1957 and 1968) rather than a disease similar to SARS or MERS, which have had case fatality rates of 9 to 10% and 36%, respectively."
The death rate is changing as more information comes in. And because of the lack of data, we don't have a date for when this will end. But it would be helpful to know when we've hit the benchmarks that would lead to an end of the stay-home order.
• • •
Good and bad
THE GOOD … If you're looking for some good news amid this public health emergency, consider the actions of the Menlo Park Fire Protection District. Firefighters can't stay at home like the rest of us. They're considered essential personnel, and thank God for that. They usually make their own meals in their firehouses. But the district, at the direction of Chief Harold Schapelhouman, has decided to buy its meals from local restaurants on a take-out basis.
It's not secret that restaurants are struggling, like most small businesses. The governor's order has closed sit-down dining places, so the only business a restaurant can do is take-out or delivery.
The fire district's decision to buy from local restaurants is good because it puts some money into the pockets of restaurants and it sets an example that hopefully other fire and police departments will follow. The fire district's chief and its board should be commended for this.
THE BAD … On the bad side are the government officials who are refusing to postpone the April 10 property tax deadline. The state Franchise Tax Board decided to extend the deadline to file 2019 returns and quarterly payments to June 15. The IRS has extended the deadline for federal taxes until July 15.
But if you own property, the deadline for county property tax payments remains April 10.
Gov. Newsom and the Legislature could delay the property tax deadline, but with two weeks until April 10, it doesn't look like that's going to happen.
The various government agencies that receive property taxes — from school districts to sewer districts, from cities to counties — are fighting against a delay.
The associations of school boards, cities, counties and special districts sent Newsom a letter urging him to keep the deadline in place while allowing tax collectors to forgive penalties for people unable to pay by that date because of COVID-19.
The officials said that extending the deadline by 60 or 90 days would have a "dramatic effect" on the funding for their agencies — as if this crisis isn't having a dramatic effect on local residents. Of course they are oblivious to the point that the people who pay these property taxes have had their lives and their finances turned upside-down because of the restrictions imposed over the virus.
In their letter to the governor, the local officials argue that a delay in property taxes wouldn't make any difference to homeowners whose taxes are included in their monthly mortgage payments. Again, they assume the taxpayers are able to pay their mortgage during this crisis.
So far, neither the tax collectors in Santa Clara or San Mateo counties have said they'll waive late-payment penalties.
Don't forget about this
Next time you're asked to vote on a parcel tax or bond measure, think back about who was on your side in this crisis. If your local school board wasn't lobbying to delay the property tax deadline, why vote to give them more money? When it really mattered, they weren't on your side.
Editor Dave Price's column appears on Mondays. His email address is price@padailypost.com.