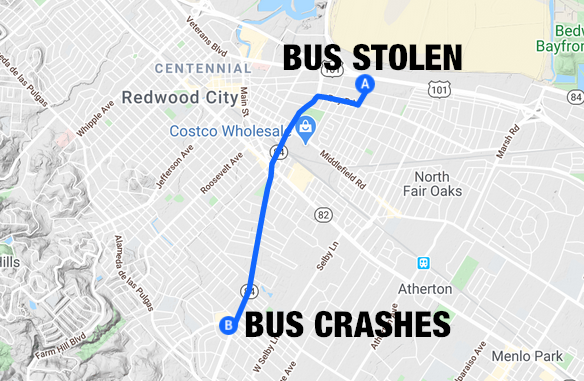 A Redwood City man is suspected of stealing a Sequoia Union High School District bus and crashing into seven cars during an erratic driving spree Saturday (March 18) morning, police said.
Santos Miguel Murillocuellas, 23, allegedly broke into a school bus storage yard at 1090 Mills Way in Redwood City, in the east part of town near Highway 101, and stole a school bus.
At 9:45 a.m., he began ramming cars on Woodside Road between Spring Street and Massachusetts Avenue, according to Redwood City police.
The collisions involved parked cars and other fixed objects, such as a median fence and signal light pole, police said.
No injuries were reported.
The bus eventually came to rest on top of a PG&E transformer at the Woodside Plaza shopping center parking lot at the corner of Woodside Road and Massachusetts Avenue, in the west side of town, police said.
Murillocuellas was booked into San Mateo County Jail on suspicion of vehicle theft, burglary, reckless driving, hit and run, and vandalism.
Anyone with information on the incident is asked to contact Traffic Sgt. Steve Fine at (650) 780-7187.
— Bay City News