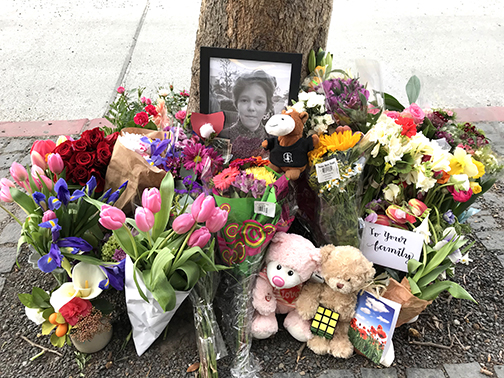 By the Daily Post staff
UPDATE, WEDNESDAY, MARCH 11 — The Santa Clara County Medical Examiner-Corner today identified the young bicyclist killed by a truck on Friday night as Paul Lafargue, 11, of Palo Alto.
Lafargue was struck and killed by a flat bed truck at the corner of El Camino Real and California Avenue.
The medical examiner said the cause of death was multiple blunt force and crush injuries, and his manner of death was ruled an accident.
Police have not yet said whether the boy was in the crosswalk at the time of his death.
SATURDAY, MARCH 7 — A collision at El Camino Real and California Avenue claimed the life of a Greene Middle School student riding a bicycle.
Authorities haven't named the young man, but Palo Alto school Superintendent Don Austin confirmed that the boy attended Greene Middle School at 750 N. California Ave.
"We don't have school on Monday, but we will have support services in place on Tuesday," Austin told the Post in an email. "The parents have requested that we don't release more information. We will honor that request."
On Friday (March 6) at 7:40 p.m., police received multiple calls reporting a collision between a vehicle and bicyclist on El Camino Real at California Avenue. Officers arrived on scene right away as did personnel from the Palo Alto Fire Department. The bicyclist, a middle-school aged boy from Palo Alto, was pronounced dead at the scene.
Police said both the vehicle and bicyclist were traveling eastbound on California Avenue approaching the intersection at El Camino Real, with the bicyclist riding on the sidewalk.
The vehicle, a white 2008 International flatbed truck, made a right turn to head southbound on El Camino Real, and collided with the bicyclist.
The driver, a man in his 60s from Palo Alto, stayed at the scene and cooperated with police. He was uninjured.
Police do not believe that drugs or alcohol were a factor in the collision. The investigation into the cause is ongoing. The driver of the truck has not been cited or arrested pending the outcome of the investigation.
Anyone who may have witnessed this collision and who has not already spoken with the police about it is encouraged to call (650) 329-2413. Anonymous tips can be e-mailed to paloalto@tipnow.org or sent via text message or voicemail to (650) 383-8984.