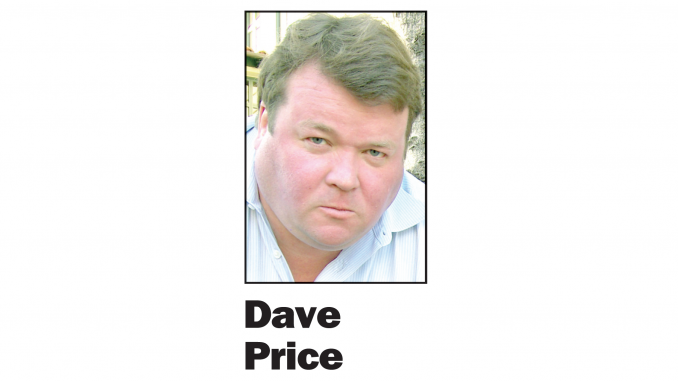 OPINION
BY DAVE PRICE
Daily Post Editor
I want to tell you about a respiratory illness that's spreading throughout the Bay Area, the nation and the world. It causes fevers, coughs, body aches, fatigue and sometimes vomiting and diarrhea. It can be mild or severe. Scientists say it can be spread by droplets in the air from an infected person coughing, sneezing or talking. Antibiotics won't treat it.
Researchers at Johns Hopkins University estimate that it will result in 1 billion illnesses worldwide this year, and 9.3 million to 45 million cases in the U.S. The CDC says it caused 12,000 to 61,000 deaths in the U.S. this year so far.
I'm talking about the flu, of course.
The world is in the midst of a panic over COVID-19, but I think it would be wise to take a step back and put things into perspective.
It feels like we're about to go into hermit mode, where everybody stays home, calls in sick, stops shopping and avoids group activities. Recall the weeks after 9/11 when the streets emptied and the country seemed to shut down.
Yet this kind of hysteria never happens during flu season. Life goes on.
The difference between the two ailments is that we all have a lot of personal experience with the flu — everybody has come down with it before — but COVID-19 is unknown. That makes it scary. That makes it easy for fearmongers — the news media, politicians — to frighten people and manipulate their behavior.
I don't think anybody ought to panic. There was a great article on the website RealClear Science that made a number of points about why we should take COVID-19 in stride.
New cases drop in China
For one thing, the number of new cases in China is already falling significantly. A few weeks ago, China was reporting more than 3,000 new cases a day. Now that number has dropped to around 400 per day. Big companies like Apple and Starbucks are reopening in China.
Also, the vast majority of cases are mild, and the death rate was lower than first predicted. The death rate originally thought to be as high as 3.8% — but it's fallen as the quality of hospital care has improved.
For Chinese patients whose symptoms started after Feb. 1, the death rate is just 0.7%, according to the World Health Organization. The U.S. death rate from the flu last winter was between .06% and 0.1%. SARS, a virus similar to COVID-19, had a death rate of 9.6%.
Only one out of every 1,000 people in Hubei Province, where the disease was first reported, has contracted COVID-19. The province has 59.2 million people and 66,000 confirmed cases. That's an indication that in a densely populated area, COVID-19 isn't spreading that quickly.
Remember Swine Flu in 2009 and 2010? There were 60 million cases in the U.S. with 12,469 deaths. Today, many people scarcely remember Swine Flu. We've been through this before. Follow the advice experts are giving about hand-washing and other aspects of personal hygiene. But I don't think it's time to panic.
Editor Dave Price's column appears on Mondays. His email address is price@padailypost.com.