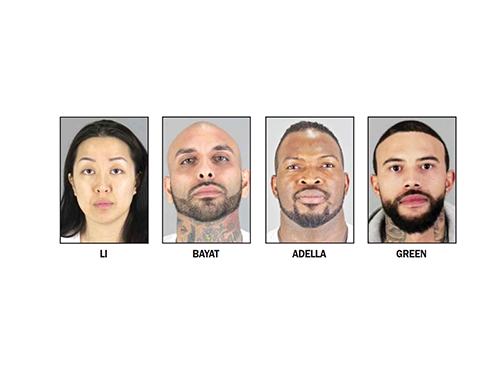 By the Daily Post staff
A man accused of being an accomplice to Hillsborough real estate heiress Tiffany Li will not face further charges relating to the murder of Li's ex-boyfriend.
San Mateo County District Attorney Steve Wagstaffe has decided not to file further charges against Olivier Adella, 44, and instead reinstated the previous plea deal his office had with Adella.
Wagstaffe said he believed Adella disposed of Li's ex-boyfriend, Keith Green's body, but isn't convinced beyond a reasonable doubt that Adella had anything to do with the murder.
Li's attorneys argued that Green was killed in a botched kidnapping plot by Adella, and that she had nothing to do with his death.
She had settled the custody issues with her former boyfriend, they said.
Another suspect Adella was going to testify against Li and her co-defendant and boyfriend Kaveh Bayat, but at the beginning of the jury trial, Adella was arrested on charges of contacting a witness for the defense case.
This led the DA's office to drop Adella's plea deal. The jury acquitted Li and deadlocked on Bayat on Nov. 15.
Wagstaffe's office is set to determine by Dec. 19 whether to retry Bayat.
Adella will be sentenced to three years in jail, which he has already served while waiting for the case to be resolved, so he will be dismissed after his Jan. 10 court date, Wagstaffe said. In the meantime, Adella is in jail on no bail status.