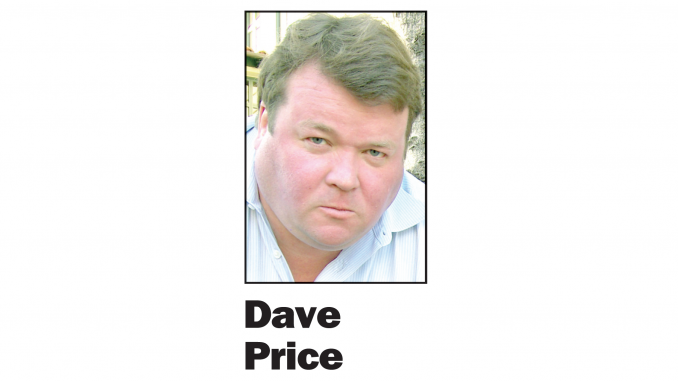 OPINION
BY DAVE PRICE
Daily Post Editor
The controversy over why Los Altos residents can't watch their City Council meetings on TV just gets weirder by the day. I'd say this was a funny story, but it's not if you pay taxes in Los Altos and have to fund these shenanigans. Money spent on this fiasco is money that won't be spent providing services to the community.
In previous episodes, we learned that Councilwoman Jeannie Bruins had complained that her asthma flared up whenever she entered the council chambers.
That caused City Manager Chris Jordan to move the meetings to the Los Altos Youth Center, where there was no TV equipment to broadcast the meetings on the local cable channel live.
Allegation No. 1
At first, the culprit was a citizen — Roberta Phillips. The allegation was that since Phillips smoked cigarettes, the odor from her — even when she wasn't smoking — was enough to trigger Bruins on the other side of the room. City Attorney Chris Diaz approached Phillips and asked her to leave the meeting, to which she refused.
Coincidentally, Phillips is a critic of Bruins. Bruins is pro-development and always a cheerleader for the city administration. When the Post asks too many questions in her view, she accuses the paper of sensationalism. It's sensationalism to her even if the story is buried on page 8, as if we attract readers by hiding stories inside the paper, and the readers walking by a newsrack can see those stories with X-ray vision. (Gee, I thought sensationalism was about front-page sex, violence or lurid photos. I didn't know that ADA rights and council procedures could be sensationalized.)
But to avoid accountability, Bruins will say anything to change the subject.
Allegation No. 2
After people finished laughing about the cigarette smoke allegation, the public was fed a new story — that the carpet glue in the council chambers was triggering Bruins.
Yes, carpet glue!
Then Jordan hired a high-priced ADA consultant, Rachel Shaw, who in turn hired a firm to test the air in the council chambers and youth center.
Oh, it's not the air
The tests showed there was nothing wrong with the air in either room.
After the results came in, Shaw denied the air tests had anything to do with any disability issues she's investigating. The air tests cost the taxpayers $16,490 even though they were not supposed to exceed $10,000.
But that's not a surprise. Jordan hired Shaw on a contract not to exceed $40,000. Now he's authorizing that she get $70,000 for her work.
What seemed like a joke has now cost taxpayers $86,490.
Now there are two
One more oddity about this story — a second council member has demanded ADA accommodations, according to Shaw. Shaw is keeping this council member's identity a secret.
Tomorrow night, council is expected to get a report from Shaw. After that, Mayor Lynette Lee Eng said she plans to call for a vote on whether council should return to its chambers so meetings can be televised again.
Participate via phone
The simple solution here is to return to the council chambers, and if Bruins and the second council member don't like it, they can participate by phone, which is allowed by California law (Government Code Section 54953).
Council already voted 4-1 to return to its chambers back on June 25, but that was during a study session when no official actions can be taken. So Jordan decided to keep the meetings at the youth center while he had Shaw conduct her investigation.
If council votes tomorrow to return to the council chambers, and Jordan refuses to move the meeting, that would be insubordination. It would provide council cause for firing Jordan.
Jordan is a headstrong guy who has his own ideas. Last year, he decided to give city workers every other Friday off without council's approval. He told the council after he made the decision.
Who's the boss?
Watching the Los Altos council meetings, one comes away with the impression that it is Jordan who runs the show, and the five female council members all report to him. In the council-manager form of government, it's the elected council members who are the boss. They hire and fire the city manager. They give the city manager direction. This relationship between the supervisors and the supervised seems to have been flipped upside down in Los Altos. Mayor Lee Eng needs to be more assertive when dealing with Jordan. Tomorrow night would be a good time for her to start.
Conflict of interest
I wonder if all five council members can vote on returning to the council chambers. Two council members — Bruins and the anonymous one — have made claims against the city that council must resolve. How can they vote on resolving their own claims?
You can't sit on both sides of the negotiating table.
If I was on council, I'd be leery of taking legal advice from Shaw. Her website says that she has a bachelor's from Brown University and an MBA from Colorado State University.
But she's not an attorney, even though she bills like one.
She's giving council advice based on her background with the federal ADA, HIPAA laws and similar state statutes. However, I haven't seen any evidence that she's an expert in the laws involving city governance, such as the Government Code, the California Public Records Act (CPRA) or the Brown Act, which regulates public meetings.
Her advice has been to keep quiet about the claims of these two council members, but would she even know if her advice violated other state laws?
The best advice is for council to vote to return to the council chambers immediately and put an end to this silliness. (Of course, if this was all about sensationalism, I'd never want this story to end, right?)
Editor Dave Price's column appears on Mondays. His email address is price@padailypost.com.
(Please note that after this column appeared on Nov. 11, the city put the council meetings back on cable TV and council cancelled the contract of Shaw.)