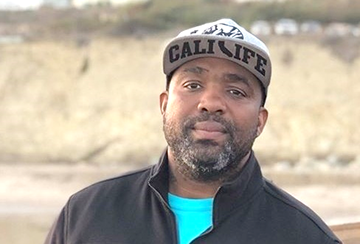 The Daily Post only puts a small fraction of the stories it prints on this website. To get all of the local news, pick up a copy of the Post every morning at 1,000 Mid-Peninsula locations.
BY SARA TABIN
Daily Post Staff Writer
The Palo Alto Utilities Department has taken out of service the boom truck a city lineman was using when he was electrocuted, said Utilities Director Dean Batchelor.
Batchelor said Donatus Okhomina, 42, was alone in the bucket of the truck when he came into contact with a high voltage line on Saturday morning. Batchelor said he has no idea what caused the accident.
"I wish I knew in my own mind what the cause was," Batchelor said. "I've been doing this business for quite some time and I can't even give you a guess about how this happened."
Okhomina, an Air Force veteran and father of four, was electrocuted when he and four other city utilities workers were replacing two electrical transformers on poles near 670 E. Meadow Drive near Middlefield Road. Batchelor said it was a routine work assignment.
The California Division of Occupational Safety and Health, or CalOSHA, has opened an investigation into the incident. Paul Guiriva, a receptionist for OSHA, told the Post on Monday that OSHA inspectors had been sent to Palo Alto.
Spokesman Frank Polizzi estimated that it will be three to six months before CalOSHA finishes its report. The investigation includes interviews and reviews of equipment and procedures related to the work and the employer's workplace safety programs. Polizzi said violations can result in citations with fines.
Maintenance hasn't stopped
The city is continuing its normal maintenance work, including repairing aerial lines, said Batchelor. He said the truck that Okhomina was working out of has been taken out of service as a precaution, but he noted that the truck was in the fleet for a long time before the incident.
Batchelor also said he doubted the accident had anything to do with the fact that Okhomina was hired this month.
Okhomina was a seasoned electrical lineman who joined the city after six years with PG&E and eight years with the Sacramento Municipal Utility District. In the military, he served as a lineman at Travis Air Force Base for four years.
Batchelor said Okhomina was working out of an Altec truck when he died. He explained that Altec is a large company that makes trucks that are used for electric work at many places, so Okhomina likely worked out of the same sort of vehicle at his previous jobs.
Donations pour in
More than 680 people have donated $75,000 to a GoFundMe page for Okhomina's family.