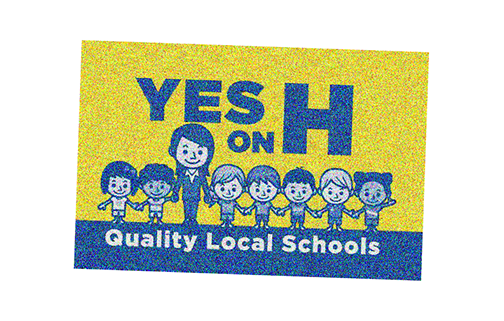 Only a fraction of the stories the Post publishes in its print edition appear on this website, padailypost.com. To get all of the local news, pick up the Post at 1,000 mid-Peninsula locations every morning.
BY EMILY MIBACH
Daily Post Staff Writer
Election results released yesterday (Nov. 19) show voters have rejected a parcel tax for the struggling Redwood City School District, which was forced to close four schools earlier this year due to declining enrollment.
Opponents of the $148 per parcel tax, led by Libertarian Jack Hickey, argued that the closure of the schools should have reduced the district's expenses, eliminating the need for the 12-year tax.
The tax would have brought in $3.4 million a year.
To pass, the tax needed two-thirds of the vote, or 66.7%.
However, as the ballots were counted, Measure H never got above 66.2%.
As of yesterday, Measure H had received 10,880 "yes" votes compared to 5,550 "no" votes. To reach 66.7%, the measure would have needed 10,954 votes.
So, at this point, it's 74 votes shy of that threshold.
The county still must count 236 additional ballots, said Assistant Chief Elections Officer Jim Irizarry. These mail-in ballots don't have the signature of the voter, so the county Elections Department is trying to track down these voters.
But the 236 voters are from throughout the county. There were elections on Nov. 5 in Brisbane, San Bruno, Burlingame, San Mateo, Foster City and Half Moon Bay in addition to Redwood City. There's no way of knowing how many of those 236 ballots are from Redwood City, but it appears unlikely that Measure H could pick up the necessary votes to win.
People who are notified by the Elections Office that they did not sign their ballots, are sent a form to correct the issue, and must send it in by Dec. 3, Irizarry said.
Irizarry said the issue of people not signing their ballots is common, and the number fluctuates every election. He said that next year the numbers of those who don't sign their ballots may go up because of "voter fatigue" where people do not fill out their ballot properly because it is too long and they just want to get it done.