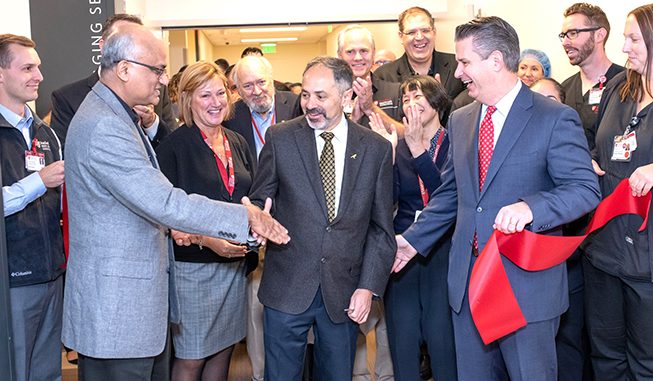 Stanford Health Care opened the doors to its new Stanford Hospital today (Nov. 17) and moved around 200 patients to the new facility across the skybridge that connects the new and old hospitals at 300 Pasteur Drive.
Hospital employees began moving the patients at 9 a.m. and the last one arrived in the new building at 12:30 p.m.
"We've been looking forward to opening the doors to our new hospital, and I'm proud to share this stunning new facility with our patients," said David Entwistle, Stanford Health Care president and CEO. "I am also grateful to our incredible employees who went above and beyond to make this a seamless transition for our patients."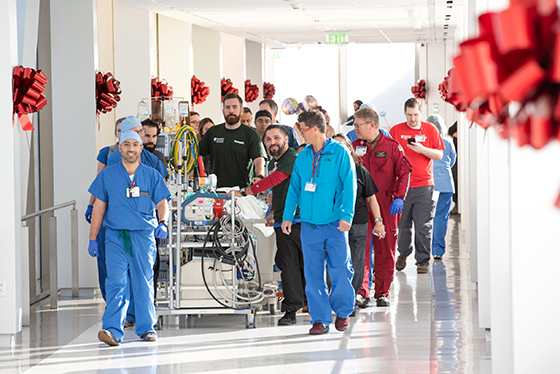 The moving day started at 7 a.m. with the opening of the new emergency department at 1199 Welch Road, which serves adult and trauma patients. The existing emergency department at 900 Quarry Road is now dedicated to pediatric patients, further increasing emergency services at the hospital.
"In a period of roughly 3-1/2 hours, a team of more than 1,600 Stanford Health Care employees moved hundreds of adult patients from the existing hospital to the new Stanford Hospital. On average, one patient was moved into the new hospital every three to four minutes," said Helen Wilmot, vice president of facilities services and planning. "This is an incredible logistical feat that required months of planning."
The opening of the new hospital was the culmination of more than a decade of planning and construction. The 824,000-square-foot, seven-story medical building features 368 private rooms and 20 state-of-the-art operating suites. It is the only Level 1 trauma center between San Francisco and San Jose, and its emergency department is more than double the size of the existing one.
The existing hospital at 300 Pasteur Drive will remain in operation and will be renovated and converted to contain all private rooms.
Here's a story the Post published in July on the new hospital.