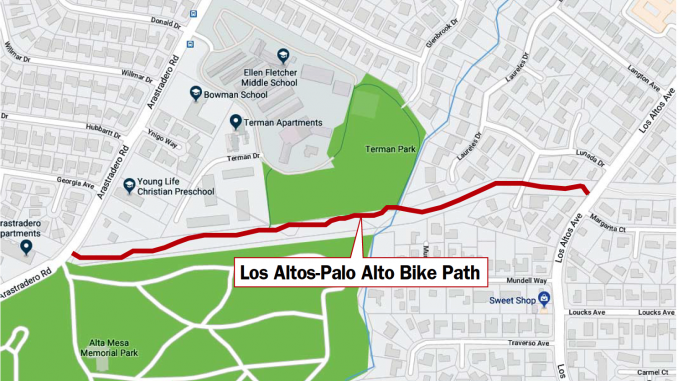 By the Daily Post staff
Palo Alto's Public Works Department has paused a plan to remove 16 trees and prune 100 more on a half-mile bike path behind Fletcher Middle School (formerly Terman Middle School) on Arastradero Road, city officials said last night (Nov. 12).
Councilwoman Alison Cormack and Open Space, Parks and Golf Manager Daren Anderson told the Parks and Recreation Commission that a meeting will be held regarding the project because residents are upset.
The meeting led by Public Works will be held at the entrance of the pathway behind the school at 3:30 p.m. on Nov. 20. The city is widening the bike path in that location, which runs alongside water pipes managed by the San Francisco Public Utilities Commission.
The SFPUC said the trees need to be removed and trimmed before the bike path is widened in order to protect the pipes.