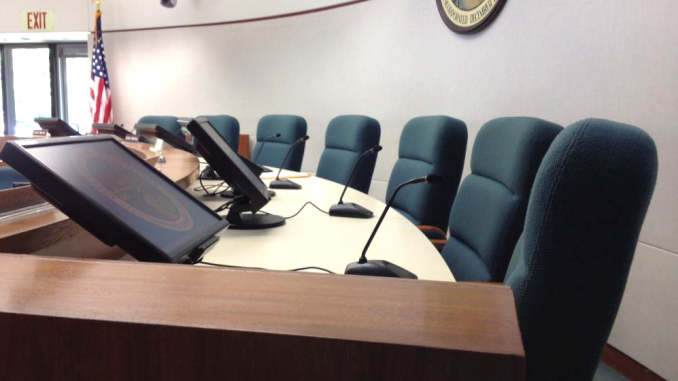 BY SARA TABIN
Daily Post Staff Writer
Los Altos will start broadcasting City Council meetings on cable television tonight, following months of complaints about a blackout from residents.
Council meetings have long been broadcast on TV from City Hall's Council Chambers. In January, the meetings were moved to the Los Altos Youth Center after Councilwoman Jeannie Bruins claimed the air in City Hall was triggering her asthma. Meetings have not been aired on TV since the move because the youth center lacked the proper equipment to broadcast them. The meetings have been available on the city's Facebook page.
A 4-1 majority of council voted on June 25 to move the meetings back to City Hall, but City Manager Chris Jordan didn't follow the council's directive. His supporters say he was protecting the city from a potential Americans with Disabilities Act lawsuit.
Mayor Lynette Lee Eng told the Post last week that elderly residents have told her they are disappointed that they can't watch the meetings on TV. She said she hoped the council would vote to move back to City Hall at tonight's meeting.
On Friday, Jordan said in his weekly newsletter that the Youth Center meetings will be televised starting tonight.
Resident Pat Marriott, who has spoken out against the move to the Youth Center, was not placated by the announcement. She said she thinks it's "way past time" for the meetings to return to City Hall. Marriott also said she is concerned about how much it will cost to broadcast from the Youth Center.
Costly investigation
Investigating Bruins' complaint has been costly.
Chris Jordan in September hired a disability consultant to advise the city about how to handle disability accommodations for elected officials.
The consultant, Rachel Shaw, is supposed to give a presentation about disability issues to the council tonight. Shaw said at least one councilwoman besides Bruins is requesting accommodations.
Shaw was hired under a contract that said her fee was not to exceed $40,000, but now Jordan is increasing her fee to $70,000.
Shaw instructed the city to hire a firm to test the air at City Hall and the Youth Center. But nothing dangerous was found in the air of either building.
However, the air tests were not to exceed $10,000, but the actual cost is $16,490.
HazMat Doc, the Santa Clara environmental consulting company that conducted the tests, suggested that the city clean out its air system in City Hall more often and look into adding better ventilation at the Youth Center.
Marriott pointed out that improving the air quality in City Hall should be easier than at the youth center because City Hall has a ventilation system.
Who decides?
"The bottom line for me is this: four council members wanted to move back," said Marriott. "Jordan disregarded that direction. We elected a city council to make decisions, not a city manager and not an ADA consultant."