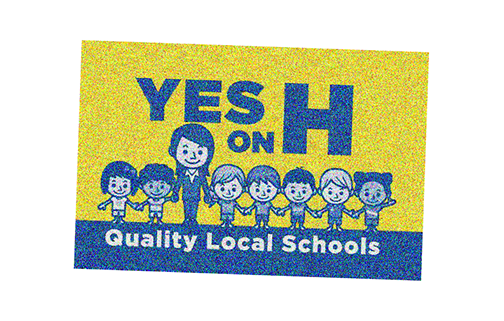 BY EMILY MIBACH
Daily Post Staff Writer
A parcel tax that could bring in $3.4 million annually to Redwood City elementary and middle schools is inching closer to victory, being just .46 percentage points away from passage yesterday, according to an update from the San Mateo County Elections Office.
Measure H was at 66.21% approval, up from Tuesday's initial reporting of the tax at 65.36%. Parcel taxes require a two-thirds majority, so the measure needs 66.67% approval to pass.
The district was asking voters to approve a $149 parcel tax, which would be in place for 12 years.
At least 947 more ballots need to be counted, according to the county's elections department. However, it is possible that even more will have to be counted because mail-in ballots will be accepted until today as long as they have a postmark from on or before Election Day.
The Yes on Measure H group posted on Facebook that they're "optimistic Measure H will pass once the votes are counted."
Proponents of the tax say the district plans to use the money "to attract and retain highly-qualified teachers; support quality reading and writing programs; maintain science, technology, engineering and math instruction; and reduce class sizes in kindergarten and first grade."
However, opponents led by local Libertarian Jack Hickey argued that the district closed four schools because of a steep decline in enrollment, and because of that, the district's budget has balanced itself.
Earlier this year, the school district hired Burlingame-based pollster Godbe Research to conduct a poll. Godbe found that 72% of respondents said they would approve a $149 parcel tax.
This is not the first time that a measure was failing on election night but was passed when last-minute votes were counted. Measure W, the half-cent sales tax that funds SamTrans and local transportation projects, skirted to victory last November with a late surge of votes in its favor. In June, Measure K, a $118 parcel tax for the Belmont-Redwood Shores School District, was failing on election night, but ultimately claimed victory after the results showed they had 67.5% of the vote — above the 66.67% threshold.