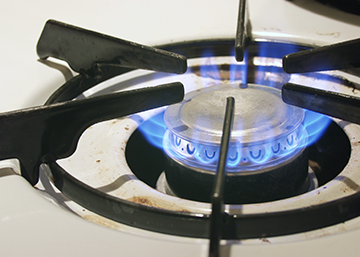 BY SARA TABIN
Daily Post Staff Writer
Palo Alto City Council said last night (Nov. 4) that it wants to ban the installation of natural gas appliances in new homes starting in April.
"I'm a Palo Alto grandfather trying to get to a livable world for my children and grandchildren," said Steve Eittreim, speaking in favor of the ban. "(This is a) climate emergency … we are way beyond too late to address it."
City Manager Ed Shikada recommended banning natural gas in new buildings by 2022 to fight climate change, but about 20 people went to the microphone during last night's meeting urging the council to move faster.
Council, in a unanimous vote, asked Shikada to return in December with an ordinance that bans gas appliances — such as stoves, heaters and water heaters — starting in April and in new office buildings by the end of 2020.
The city has offered incentives to move away from gas for three years but hasn't gotten enough of a response.
"People will not do this voluntarily," said Councilwoman Alison Cormack. "Change is hard … and I think this is an opportunity to show leadership." Cormack said that the city will not be removing gas hook-ups in homes, so people don't have to worry about losing their existing gas appliances. The ordinance would only apply to new construction.
She also said the city — which supplies natural gas to homes — would not be raising gas rates because of this policy.
Eyeing 'micro' electric grid
She said that some people are worried they will be more vulnerable to power outages without gas. Many people in the Bay Area lost power last month amid shut-offs by PG&E.
Christine Tam, the city's resource planner, said the city is looking into creating its own "micro" electric grid to supply power in the event of extended outages.
Residents who spoke in favor of the ban said they are worried about climate change and cited recent wildfires as proof of the toll it has taken on California. Environmentalist Bruce Hodge quoted Greta Thunberg, a 16-year-old Swedish environmental activist who spoke to the United Nations. Hodge told council banning gas should be a "no brainer."
Tom Kabat, an energy engineer from Menlo Park, said requiring electrified houses will help push the market to greener technology.
"Don't wait for the market to change, change the market," agreed Elizabeth Greenfield, a Palo Alto resident who works as an environmental specialist for Sunnyvale. "I am of the generation that will inherit the legacy of your climate actions."
Debbie Mytels mentioned the 2010 San Bruno pipeline explosion, which killed eight people, as an example of natural gas being unsafe.
Following other cities
Palo Alto is following in the footsteps of other Bay Area cities.
In July, Berkeley became the first city in the U.S. to ban natural gas lines in new residential buildings that are only a few stories high, effective Jan. 1.
Menlo Park City Council in September approved a requirement for new single-family homes and apartments that are three stories or less to have electric clothes dryers, pools, space heaters and water heaters.
Stoves and fireplaces can still use natural gas, but electric hook-ups must be provided.
In addition, new office, retail and apartment buildings over three stories must have all-electric appliances and install solar panels based on the square footage of the building.
Vice Mayor Adrian Fine, who put forth the resolution, originally wanted to ban gas for all new buildings in April.
Planning Director Jonathan Lait said that timeline might be too difficult for office buildings, especially since it might complicate projects that are already in the city's permit approval process. He also reminded the council that it takes at least 90 days from when they approve an ordinance to when it is implemented.