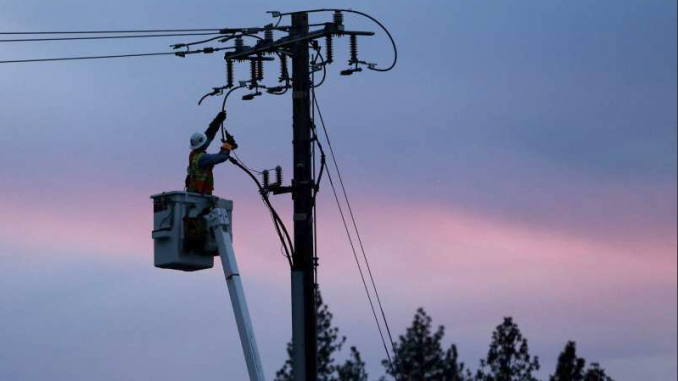 Prompted by forecasts of powerful winds, PG&E confirmed that it will shut off the power to 940,000 customers across 36 counties beginning at 2 p.m. today (Saturday, Oct. 26) and proceeding in six phases.
All Bay Area counties except San Francisco will have outages, and about 400,000 customers in the region could lose power.
The utility initially estimated that 850,000 total customers would be affected, but increased that number by 90,000 on Saturday to 940,000.
PG&E said customers should prepare for a shutdown lasting 48 hours or longer, because lines must be inspected before power can be turned back on.
The shutoffs will take place in six stages.
PHASE 1: The first counties to be affected, at 2 p.m., will be Amador, Butte, Colusa, El Dorado, Glenn, Nevada, Placer, Plumas, San Joaquin, Sierra, Siskiyou, Shasta, Tehama and Yuba.
PHASE 2: The second phase about 4 p.m. will impact customers in Lake, Marin, Mendocino (south), Napa, Solano, Sonoma and Yolo counties.
PHASE 3: Phase three will start about 5 p.m. for customers in San Mateo, Santa Clara, Alameda, Contra Costa, Monterey, San Benito, Santa Cruz and Stanislaus counties.
PHASE 4: The fourth phase will start at 5 p.m. for Alpine, Calaveras, Mariposa and Tuolumne counties.
PHASE 5: Phase five will start about 5 p.m. for customers in Humboldt, Mendocino (north) and Trinity counties.
PHASE 6: The sixth and final phase will be at 10 a.m. Sunday for Kern County.
Customers can determine if they're going to lose power by visiting this website:
https://www.pge.com/en_US/safety/emergency-preparedness/natural-disaster/wildfires/psps-service-impact-map.page?WT.mc_id=Vanity_eventmaps
Warning: The PG&E website has a tendency to crash. You might want to try different browsers to get it to work properly.
The PG&E website said that customers in the following communities could lose power:
San Mateo County — 64,932 customers

Belmont, Burlingame, Daly City, El Granada, Emerald Hills, Half Moon Bay, Hillsborough, La Honda, Loma Mar, Montara, Moss Beach, Pacifica, Pescadero, Portola Valley, Redwood City, San Bruno, San Carlos, San Gregorio, San Mateo, South San Francisco, Woodside, Unincorporated Communities in Southwest San Mateo County

Santa Clara County — 27,093 customers

Coyote, Cupertino, Gilroy, Los Altos, Los Altos Hills, Los Gatos, Monte Sereno, Morgan Hill, Redwood Estates, San Jose, San Martin
PG&E says it has notified people who are losing their power via robocall, text and email.
PG&E officials said that winds could reach up to 60 mph tonight in the hills, with gusts of up to 70 mph. However, PG&E's wind forecasts during the last mass shutdown on Oct. 9 were wrong, with winds at considerably lower speeds than predicted.
During that shut down, PG&E pulled the plug to 738,000 customers in 34 counties. PG&E was widely criticized for its handling of the event, including for poor communication with customers and local governments.
PG&E has been shutting off power proactively to prevent wildfires after utility lines started massively deadly and destructive fires over the last two years. PG&E has estimated that similar power shutoffs may be necessary for the next decade until the utility can upgrade its technology.
But despite a power shutoff in Sonoma County on Wednesday night, an investigation has begun into damaged PG&E equipment found near the origin of the Kincade fire.
The blaze had grown to more than 25,455 acres and destroyed 49 structures as of Saturday morning and was only 10 percent contained.
— From staff and wire reports