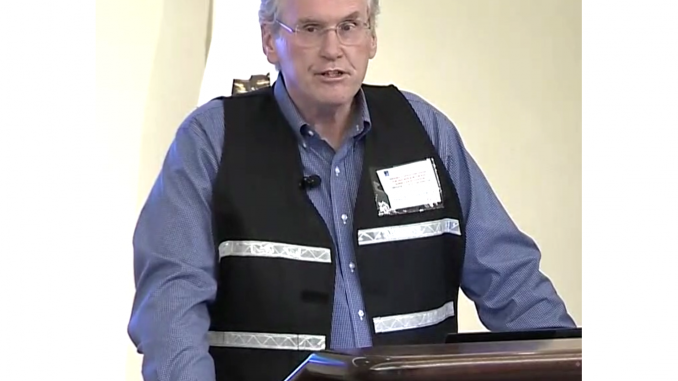 BY EMILY MIBACH
Daily Post Staff Writer
Angry PG&E customers are taking out their hostility toward the utility's executives by posting snarky comments on the livestream of the company's press conferences.
During yesterday's livestream of a PG&E news conference from the company headquarters in San Francisco, people were wondering why CEO Bill Johnson was wearing a safety vest like employees out in the field.
"Don't get the safety vest they wear indoors," @mikeinSFCA wrote.
"It's to protect him from the audience," responded @FogSpotter.
@IRMwrites chimed in: "The vests make them look official. Don't you feel more confident in them?"
Others who have had to deal with the blackouts over the past two weeks also took to the live chat to express their frustration.
"If you had spent your money over the years instead of reaping profits — we would not be here," wrote @WLMithaar.
"We've lost so much food, and our oven was damaged," @ddhedder wrote.
"I understand that it's better than a fire, but still frustrating," @ddhedder wrote in another comment.
"In Placerville we haven't had any wind through this whole thing and it's still off," wrote @bearpen73.
Others have taken their anger out on PG&E a little differently. Two weeks ago a customer threw eggs at a PG&E office in Oroville. And a PG&E truck was shot at in Colusa County. The utility also put up barricades around its San Francisco headquarters.
Others have threatened and yelled at PG&E workers as they try to restore power to people.
"These people are there to help. I understand the anger and emotions, but there are continued threats, verbal and otherwise against them," Johnson said. "I understand the anger, but be angry at PG&E, not at these workers."
Naturally, the livestream commenters had things to say about Johnson's request.
"They came out to just tell people to quit being mean to them…" wrote @robsanders2000.
"I would take you more seriously if you did this conference in the dark," @Raider_Glace.
"But what about the stockholders?! Won't somebody think of the stockholders?!" @xDatajackx commented.