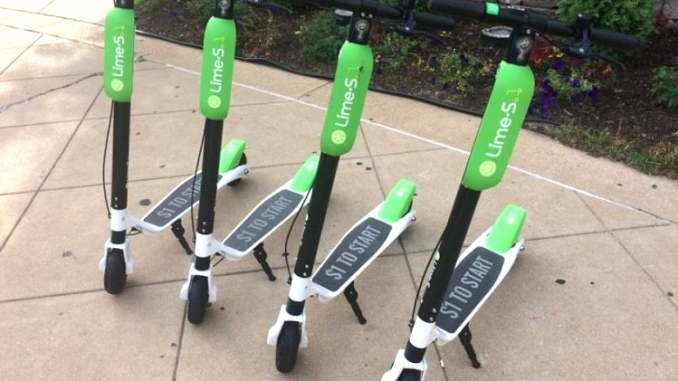 BY SARA TABIN
Daily Post Staff Writer
Electric scooters are headed for Palo Alto. City officials, who saw that in San Francisco riders dumped the e-scooters on sidewalks and gutters after trips, want to put rules in place before they arrive here.
City Transportation Manager Philip Kamhi told the Post on Monday (Oct. 7) that he is fielding calls everyday from companies that want to put their sharable bikes and e-scooters in Palo Alto.
City Council originally approved a one-year bikeshare and e-scooter pilot program in March 2018, but the city didn't have enough employees to work on the program, so it never got off the ground. The pilot program was renewed this year and the scooters were discussed at yesterday's council meeting under the city's annual Transportation and Traffic Work Plan.
Kamhi is currently working on a set of guidelines for the scooters, including safety rules and rules about where companies are allowed to place bikes and scooters. Once the guidelines are finished they will undergo a legal review and be approved by the city manager. After Ed Shikada approves the guidelines, the city can start vetting companies, said Kamhi.
Kamhi wasn't sure whether it will be weeks or months before the scooters arrive, but said they will be here "soon."
Palo Alto wants rules to avoid problems that have come up in other cities, said Kamhi.
San Francisco temporarily banned three scooter companies in April 2018. City Attorney Dennis Herrera said in letters to LimeBike, Bird and Spin that the city had received numerous complaints of riders whizzing by on sidewalks, not wearing helmets and leaving the devices on sidewalks, obstructing the right of way.
'Public nuisance'
Despite previous warnings, the scooter companies were "creating a public nuisance on the city's streets and sidewalks and endangering public health and safety," he wrote.
Hundreds of the scooters began appearing around the city in March 2018, and were quickly picked up by riders. They became an annoyance for many because they do not require docking stations and can be left anywhere when a ride is over.
Mountain View passed a temporary ban on electric scooters in June to give the city more time to regulate them.