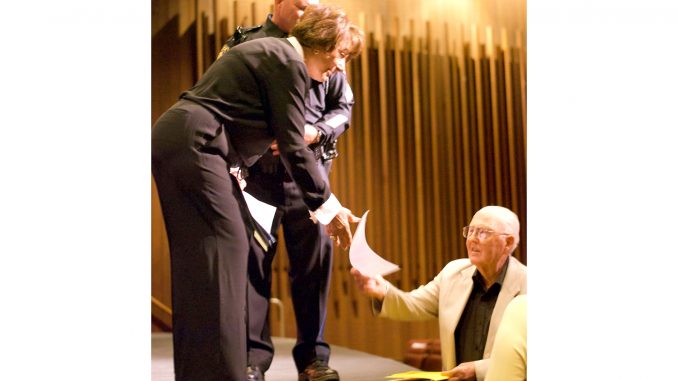 BY SARA TABIN
Daily Post Staff Writer
Palo Alto Congresswoman Anna Eshoo took heat at a town hall meeting Thursday night for not joining other House Democrats in calling for an impeachment inquiry of President Trump.
Over half of House Democrats, 137, have indicated their support for the inquiry. When a member of the audience asked Eshoo why she isn't one of them, people applauded.
Eshoo denied that she is against impeachment, but said she does not see a point in adding her name to the list, comparing it to signing an online petition. She said she supports the investigation into Trump, but that there isn't enough evidence for her to call for an impeachment hearing at this point.
"We have to have the evidence and I hope that we will get that," she said.
She also was concerned that impeachment proceedings would bleed into the 2020 election.
Audience members groaned aloud and shouted questions at her. "If you support it, say something," said one audience member.
"You disagree with 130 colleagues?" asked another.
Attendees of the town hall, which was held at Foothill College's Smithwick Theatre in Los Altos Hills, brought up prominent national issues like climate change and health care as well as more obscure topics including patents for inventors and charging stations for electric cars.
Eshoo said Congress must take action on climate change.
"Our planet is on fire," she said. "This is not something we can take our time on anymore."
She also promised to continue to work to reduce the costs of prescription drugs.
"When people are making choices as to whether they can pay their rent, buy their groceries, and if they do that, then they have to cut their pills in half, that's not what should be happening in this country," she said.
One Palo Alto resident dug into Eshoo's position on "Medicare for All." The resident said that even with insurance, her family struggles with medical bills. She asked why Eshoo hasn't signed onto Medicare for All.
Eshoo said there are several Medicare for All bills pending, and she'd like to know more about the cost of the legislation before supporting a bill. She said that in general she supports universal health care that would allow everyone to have access to hospitals and doctors without taking away employer-sponsored insurance.